Londonderry cemetery sightings spark red squirrel hope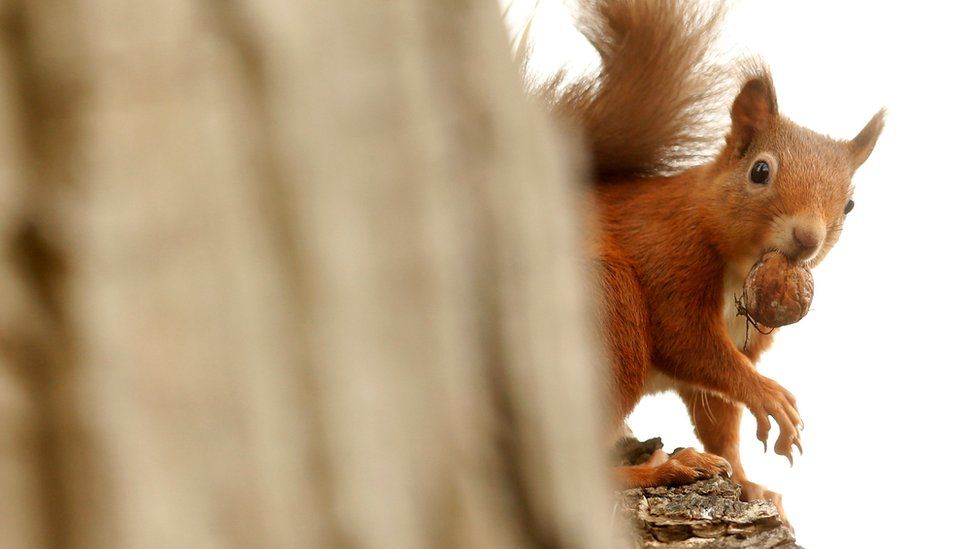 Londonderry's City Cemetery has become an unlikely haven for native red squirrels, according to conservation researchers.
Ulster Wildlife reported a significant number of sightings at the cemetery in 2017.
The sightings have sparked fresh hope for the survival of the native squirrel in Derry
A volunteer recruitment drive is under way in the city to help protect the squirrels.
The charity's red squirrel officer Caroline Finlay said there appeared to be a "sizeable population" of reds at the graveyard.
"It looks like the squirrels are using the woodland corridors from the cemetery to Southway, along the Letterkenny Road and along the cycle path, where again we have confirmed sightings," she said.
"If the amount of cones we have found eaten here are anything to go by there looks to be a sizeable population."
She said Ulster Wildlife will now carry out a more detailed conservation study and hope to recruit a network of volunteers in Derry.
"Without active conservation, this much-loved creature could be lost within a generation."
"By establishing a network of volunteers in the city, we can help give our reds a fighting chance of survival and make the north west a stronghold for these iconic creatures in the future," she added.
Cemetery tour guide Seamus Breslin said the cemetery provides ideal environs for wildlife.
"The squirrels are there, we've seen foxes and badgers, all sorts of flora and fauna," Mr Breslin said.
"Victorians designed their cemeteries to double up as parks, places where you could go for a walk, away from the smoke and smells of the city. The yew trees are there, deliberately to attract wildlife."
Numbers of native red squirrels have dwindled across Ireland and it is now regarded as one of the island's most endangered mammals.
Conservationists estimate there are currently about 140,000 Irish reds.
They must compete for food and habitat with grey squirrels - introduced in the 19th century from north America.
Greys can also carry squirrelpox, a virus that does not harm them but is deadly to reds.