Row over £26m Londonderry railway station plan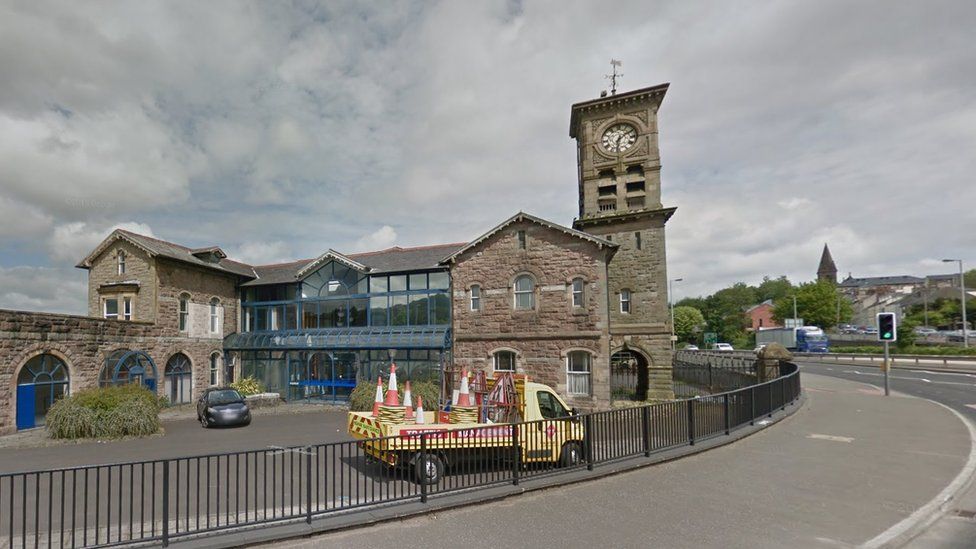 A row has broken out over plans for a multimillion refurbishment of the old Waterside railway station in Londonderry.
Translink's £26m plans would see the development of a regional multi-modal transport hub on the site of the old station.
Transport lobby group Into The West is petitioning Derry City and Strabane District Council to reject the plans.
But the city's Chamber of Commerce has given the proposals its backing.
Campaigner Eamonn McCann of Into The West said the transport hub plans were "a laughing stock".
He said under the proposals the station would effectively be unused. Trains, he said, would park outside the old station and the building separated from the Foyle riverfront by two railway lines and a car park.
"That is little short of vandalism of what could be a magnificent entrance into the city of Derry and into a rail terminus that is fit for a regional capital," he added.
The multimillion pound redevelopment is being funded by the EU with support from Stormont's Department for Infrastructure and the Department of Transport, Tourism and Sport in the Republic of Ireland.
Mr McCann said rejecting the current proposals did not threaten the project's funding.
Into The West had prepared alternative plans that should be given full consideration, he said.
The old station was identified as the preferred site for the £26m transport hub after a public consultation.
It includes plans for park-and-ride facilities and improved public transport to the city centre.
The plans also see the current station demolished and the creation of a greenway link to the city centre via the Peace Bridge.
The President of Londonderry's Chamber of Commerce, Jennifer McKeever said the transport hub will be a "great asset to the city and region".
"The space is not going to be unused," she said. "Quite the contrary, it will be a beautiful open space that can be used for cafes, for entrepreneurship.
"There will be a public area fit for retail, or for public artworks for example.
"We believe the proposal in its current form is 100% right for the city. We can visualise and realise our hub aspiration for the city, that will connect the Wild Atlantic Way with the Causeway Coastal route.
"The project will provide our city with a gateway of which we can be very proud," she added.
Derry City and Strabane District Council's planning department - which will have the final say on the station's redevelopment - is to hold a planning pre-determination meeting on Wednesday.