Derry mum thanks men who lifted car off little girl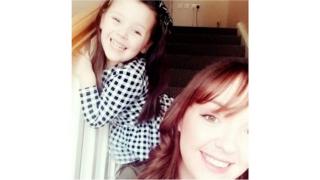 A Londonderry mother has said she will be "forever grateful" to people who lifted a car off her four-year-old daughter who was trapped underneath.
Amelia Carlin sustained a fractured pelvis and a broken thigh bone after she was knocked down in Magowan Park on 25 February.
She is being treated in intensive care unit in hospital.
Her mother Niamh said the people who lifted the car saved her daughter's life.
"I would like to say a huge thank you to them all, to everybody who was at the scene. I do not know what I would have done if they had not been there," she told BBC Radio Foyle.
The little girl had been playing at a friend's house directly opposite her home and had tried to cross the road to tell her mother she wanted to stay there a little longer.
"I just saw everyone running up the street past my house and I knew something was going on," Ms Carlin said
"Amelia's shoe was out my front, the car was on up the street a bit, that's when it clicked that it was her.
"By this stage, all the men were trying to lift the car off her. I ran up to the front of the car and threw myself under it."
She said the incident still "does not seem real."
"I could see her, she was awake, but her wee coat was stuck under the wheel.
"She was able to talk, she was conscious through the whole thing. She was looking at me and just shouting 'Mammy'."
Ms Carlin said as the men lifted the car she was able to "pull her out from the front of the car."
"I'll be forever grateful for all their help, for everything they've done, for me and Amelia."
She said Amelia has responded well to treatment and medics expect her to make a full recovery.
"She's been asking where she has been and I've told her she has had an accident. That's all it was, there was no way the driver could have seen her."
Ms Carlin also said an attack on police who attended the scene of the accident "should not have happened."