'No address' parcel delivered in Donegal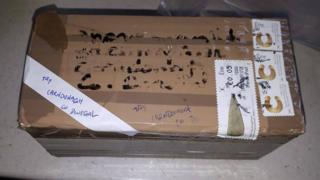 A parcel with a barely legible address and unreadable name has been successfully delivered to its intended recipient in Ireland.
Shane Crumlish, who lives in Carndonagh, said he was shocked that the parcel - a gift for his wife - made it to his door.
When it arrived, his address - originally written in black marker - was unreadable.
Two notes were attached that simply read: "Try Carndonagh, Co Donegal."
"How this got here, I just don't know," Mr Crumlish told BBC Radio Foyle.
"There was nobody in the house when it arrived so it was just left outside in one of my cars."
He said neither the name nor address on the parcel were readable in any way, adding that two local postmen had somehow figured out where it was to go.
"I've been talking to the postman, John from Moville," said Mr Crumlish. "Between himself and another postman they have done a bit of head-storming and came up with the idea: 'It must be for Shane.'"
Mr Crumlish said a few years ago he often ordered collectibles, and was a frequent recipient of similar parcels.
"They must have figured it from there," he said.
'The boy with the glasses'
It's not the first time the detective work of An Post - the Irish postal service - has defied the odds to deliver cryptically addressed post to Donegal.
In 2015 a letter successfully reached its intended recipient even though it was addressed to: "Your man Henderson, that boy with the glasses who is doing the PhD up here at Queen's in Belfast; Buncrana, County Donegal, Ireland."
The letter travelled more than 80 miles from Belfast, before being delivered to the office of student Barry Henderson's wife, Roisin, in Buncrana, which has a population of about 7,000.