Severed deer heads found on border road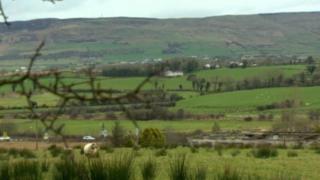 The severed heads of two deer have been found on a country road close to the Londonderry-Donegal border.
The deer heads were discovered under a hedgerow on the Bridgend-to-Coshquin road on 9 March.
They were found by local woman Siobhan Ryan while she was walking her dogs.
Her husband, independent councillor John Ryan, said the area was notorious for fly-tipping but that the severed heads were the worst thing to have been dumped there.
Warning: Article contains graphic image readers may find disturbing
The discovery had upset many people in the local community, he added.
"The road has always been a bane in terms of illegal dumping but what was found there last week was on a different level," said Mr Ryan.
Deer were not usually seen locally and it appeared the animals had been captured somewhere else and dumped there, he added.
"These two animals must have been brought into the area, it is cruel, it beggars belief," he said.
Mr Ryan said he has subsequently notified the relevant authorities.
Pat Scully from The Wild Deer Association of Ireland said the deer appeared to be young stags, about two or three years old.
He said the heads appeared to have been removed with a knife.
"That requires a certain level of skill.
"There is a market for venison north and south of the border and unfortunately unscrupulous people will try and benefit from that," he added.