Chieftain's Walk: Thousands walk to remember McGuiness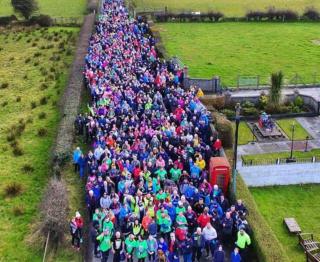 The family of Martin McGuinness have thanked the thousands of people who took part in a cross border charity walk in memory of the former deputy first minister.
The Chieftains Walk is expected to raise tens of thousands of pounds for cancer care services in the north west.
Thousands of walkers made their way from Londonderry to An Grianan Fort in County Donegal.
Mr McGuinness' son, Fiachra, said it was a fitting tribute to his father.
"The Chieftain's Walk was a very emotional experience for us as a family but it was also inspiring to see thousands turning out as they did.
"My father would be so proud and we are so grateful to you all.
"It really was a fitting tribute and incredible to see," he added.
Mr McGuinness died on 21 March 2017 from a rare condition known as amyloidosis.
His wife Bernie led the walk accompanied by the couple's four children and wider family members.
Sinn Féin's president Mary Lou McDonald, her predecessor Gerry Adams and the party's Northern Ireland leader Michelle O'Neill were among those to take part in Sunday's walk.
Mrs O'Neill said the event showed the "high esteem in which Martin was held".
Funds raised will be donated to the North West Cancer Centre at Derry's Altnagelvin hospital.
Last week, a portrait in his memory was unveiled at Stormont.