Derry dolphin sightings echo Dopey Dick tale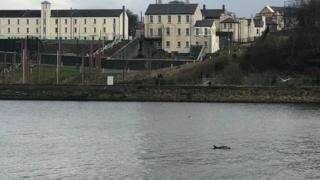 More than 40 years after the misadventures of Londonderry's most infamous aquatic visitor had the city hooked, two new marine mammals are enthralling people in the north west.
Thought to be common dolphins, the pair have been creating a buzz on the city's waterfront over the last week.
Sightings so far up river are considered rare at this time of year.
Chasing mackerel may have brought them into the city, said wildlife expert Mick Conway.
"They will only stay here a limited period of time, then head back to sea when they are ready, when they feel like it," he said.
"It's impossible to know what goes on inside their heads but if there's enough food to sustain them, they will be quite happy to be here."
As a tidal river, the Foyle is a perfect habitat for the dolphins because it is "fundamentally an arm of the sea", he added.
Mr Conway said it was no coincidence their arrival had piqued the public's interest.
"We live lives that don't really allow us to come into contact with nature and our contact with nature can be so limited that when we see a phenomenon like this it pulls us up sharply," he said.
"We realise we are connected to the wild world around us."
The sightings have echoes of the tale of killer whale Dopey Dick - named in a Derry-esque homage to Herman Melville's classic whale tale - who in 1977 made his way right up Lough Foyle and into the city centre.
Over the course of a week, his every twist and turn was big news.
Hundreds came daily to catch a glimpse of the killer whale, and police reported receiving hundreds of calls a day from people wanting to know if the whale was still in the Foyle because they wanted to travel to Derry so that their children could get a glimpse of it.
He left of his own volition more than a week later, heading down river and back into the sea.
"The experts thought he was disorientated but they got it all wrong," said Mr Conway.
"When the day came to go back to sea and he set off down the river like a rocket going back towards the sea, it was an absolutely fantastic sight."
Last year Scottish scientists made a remarkable discovery when they reportedly rediscovered Dopey Dick, alive and well - and now known as Comet - and living off the west coast of Scotland.