Londonderry shirt factory workers in temporary lay-off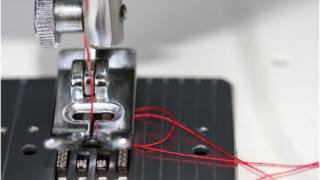 Around 50 staff at Londonderry based shirt factory Smyth & Gibson are being temporarily laid off after the loss of a major client.
Workers were notified on Thursday that a five week layoff would begin on 9 April.
Management said it hoped to secure business from potential new clients during that time.
Smyth and Gibson make high-end garments for well-known brands, including Thomas Pink.
In a letter seen by the BBC, management informed workers there would be "no work in the factory until mid May."
Foyle DUP MLA Gary Middleton said there were concerns for the company's long term future.
"This has obviously caused much concern among the staff and fears for their future employment.
"My understanding is entire factory will effectively close. The fear for staff is if another customer isn't found, we are looking at a situation where the factory does not open again.
"We really need to get a new customer on board before these jobs are lost," he said.
Management's letter to staff have further advised workers they will be entitled to "a 'Guaranteed Payment' for the first 5 days of your lay off at a daily rate of £27 per day and no additional payments would be paid from the Company following the 5 days guaranteed payment."
The letter further thanks staff for their "understanding in the current circumstances we find ourselves in."
The BBC tried to contact Smyth & Gibson but have received no response.