'All cisterns go' for toilet scheme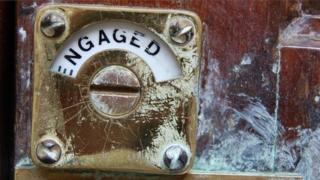 Businesses in the north west are to be offered a financial incentive to let the public spend a penny on their premises.
Derry City and Strabane District Council's Community Toilet Scheme aims to complement existing public facilities across the council area.
It will see participating businesses paid to let people use the loo without having to make a purchase.
The council wants shops and cafes to sign up to the scheme.
Derry and Strabane Mayor Maolíosa McHugh said there were benefits for both the public and participating businesses.
He said the public will be able to use "more clean, safe and accessible toilets at no cost" while local businesses "will not only benefit from free publicity and the annual fee for offering their facilities but it could bring greater footfall into their premises".
"It is an ideal way for local businesses to give something back to their community and is a welcome addition to the existing public conveniences in our Council area, particularly for people with mobility issues," he said.
Convenient
Participating businesses will be identified by a window sticker that will also detail the level of facilities they have.
The facilities on offer will also determine the fee local businesses receive from council.
Raymond Martin, Managing Director of the British Toilet Association welcomed the scheme but said the council should not step away from its responsibilities to provide public facilities.
He said similar schemes have been successful in other UK council areas.
"Where you get a properly run community toilet scheme it works really, really well," he added.
The scheme will operate during normal business hours.