£7m funding for NWRC campus plans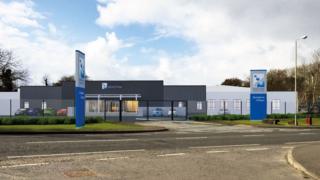 Plans to redevelop the North West Regional College's (NWRC) Springtown campus in Londonderry have been boosted by £7m of government funding.
The college plans to redevelop facilities at the campus which delivers most of NWRC's training and skills courses.
The funding is being provided by the Department for the Economy.
Work could begin at the campus in September, subject to the approval of planners.
Leo Murphy , NWRC principal , said the funding was a "welcome result for the development of industrial apprenticeships in the college, city and region."
"If we are to realise our economic potential in this region, as well as becoming a University City, we need to become an Apprenticeship city.
Vibrant economy
"This substantial investment and support from the Department for the Economy can allow us to make this happen for our young people and adults and bring the campus space into a new era."
Courses at the campus, one of NWRC's five sites in the north west, include tiling, electrics, welding, motor mechanics, joinery and plumbing.
Beverley Harrison, of the Department for the Economy, said the campus redevelopment will "provide students and staff with access to a modern, state of the art, learning environment."
"The department is committed to enhancing the education, skills and employability of learners of all ages and abilities in order to help develop a vibrant knowledge-based economy," she added.