Irish abortion referendum: Abortions could be offered to NI women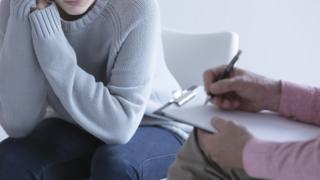 Women from Northern Ireland could cross the border to have an abortion if there is a yes vote in the upcoming referendum, a former chief executive of Northern Ireland's Health and Social Care Board has said.
John Compton said the Irish government would need to legislate for women living in Northern Ireland in that case.
Currently there's cross border cooperation across some health and social care services.
The referendum takes place on 25 May.
Mr Compton said a yes vote would require detailed policy in regard to women from Northern Ireland.
"There is no issue to stop people going there, particularly if they had an Irish passport, there would be no issue about that at all.
"Whether or not they are going to be treated there or not, I think there would need to be policy decisions that would need to flow from whatever legislative change was made," he added.
Northern Ireland's abortion laws are much stricter than the rest of the UK.
Abortions are only allowed in Northern Ireland if a woman's life is at risk or there is a permanent or serious risk to her physical or mental health.
Rape, incest and fatal foetal abnormalities are not circumstances in which they can be performed legally.
Currently women from Northern Ireland can travel to England to have a free NHS abortion after charges were abolished in June 2017.
Mr Compton said the issue of women from Northern Ireland travelling to the Republic was "not straight forward."
"The real issue here is there are two jurisdictions and you will have potentially two different legislative frameworks for dealing with what is a very complex problem."
Mr Compton said whatever the outcome of the referendum in the Republic it will add "added momentum for a debate about change in northern Ireland."
John Compton said he does not see any reason why women from north of the border could not access services in the Republic.
Voters in the Republic will decide if they want to make changes to Ireland's strict abortion laws, upheld in the Eighth Amendment of the Irish constitution on 25 May.