Grandfather who tackled car thief 'would do it again'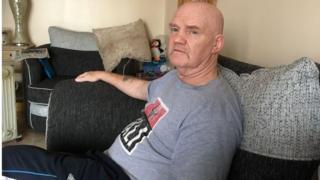 A Londonderry grandfather who tackled a knife-wielding carjacker has said he did not think of his own safety.
Damien McDermott, 63, grappled with Joseph McMullan as he was stealing a woman's car in the Ballymagroarty area of the city in May 2017.
On Tuesday at Londonderry Crown Court McMullan pleaded guilty to charges including hijacking, robbery and having a knife.
He swiped the knife in front of a woman's face as he stole her car.
The court heard McMullan , from Kavanagh Court in Derry, had run across a supermarket car park after the woman, grabbed her by the hair, pulled her to the ground and stole her car keys and mobile phone.
'Late for mass'
McMullan has 130 previous criminal convictions.
Mr McDermott, a former boxer and marathon runner, had been worshipping in a nearby church when he was alerted to the incident by another woman asking for help.
She told him McMullan had also tried to steal her car and had held a knife to both her and her baby's throats.
"We were late for mass and standing at the back, when the door opened and a woman asked could I help her," Mr McDermott said.
Confrontation
He said he could see a confrontation in a supermarket car park and decided to intervene.
Mr McDermott said a woman was "hanging out the passenger side" of a car and it was being driven towards him.
"I shouted at her to let go, her legs were being dragged along the ground. I jumped in and got a hold of him.
"We were wrestling for a bit but I couldn't see a knife at this stage."
The former boxer said once McMullan was able to get the car in gear, he was able to shake him off and drive off.
"These things happen so quickly that you don't get time to think. If you asked if I would do it again, then I would.
"There were no thoughts of fear, I just wanted him out of the car," he added.
He returned to church after the incident and said he has not seen either of the women since.
"I would like to meet them, see how they are," he said.
McMullan was apprehended by the PSNI later the same evening.
He has been remanded in custody until sentencing.
Judge Philip Judge Babington said the court had a duty to keep the community safe and in sentencing McMullan, and he would do that.
Judge Babington said he also wanted to see McMullan's record in the Republic of Ireland prior to sentencing.