Teenage sheepdog trainer sells collie for £7,000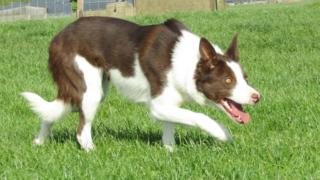 A County Londonderry teenager who started training sheepdogs when her father encouraged her to get a job has sold a collie she trained for more than £7,000.
Shannon Conn, 14, has been honing her skills as a trainer for two years.
Her dog Rosie, a red and white collie, has now fetched more than £7,140 at auction in England.
The Limavady High School pupil now hopes to use her skills to develop a business.
Shannon, who has competed on BBC Countryfile's One Man and His Dog, started working with Rosie when the collie was just six months old.
The schoolgirl said she knew from the off that the collie was a special dog.
"I got her about 12 months ago, she's a lovely natured pup, that's why I choose her," Shannon told BBC Radio Foyle.
"She's red and white and really eye catching, really different. She has pricked ears which everybody loves, as you can tell from the money she got."
Rosie sold for three times more than the previous highest price for one of Shannon and her dad's dogs.
"I was hoping she would get good money but I never expected it to be that high to be honest," Shannon said.
The teenager said saying goodbye is never easy.
"Me and Rosie were really close, it's hard to let her go.
"It was very difficult at the start when I started selling dogs, but the more it goes on the easier it gets," she added.
Her dad Loughlin, who also trains sheepdogs, knew there was something special about Rosie - and about his daughter's skills as a trainer.
"I said to Shannon she would have to go and get a part time job somewhere when she got into her teens," he said.
"So she decided she would train dogs and sell them and she's definitely proved us wrong.
"She is pretty good at it."
Now Shannon is readying to build on her success.
"I hope to buy puppies that are 6-12 months old and sell them again.
"It's a job as that will hopefully develop into a business," she added.