Springtown Camp: Plans for Derry naval base monument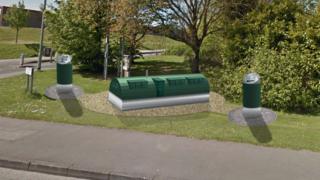 Plans are being made for a new monument to remember Springtown Camp in Londonderry - a naval base where people squatted for years.
Springtown Camp was heavily guarded by US Marines during World War Two but locals moved in when the Americans left.
People in the city could not get adequate housing so they squatted in the camp in the 1940s, '50s and '60s.
The camp closed in 1967 and some of the residents reunited in October 2017.
The proposed model Nissen hut would be based at the junction of the Springtown and Northland roads.
Derry City and Strabane District Council said it has received a planning application for the proposed monument.
Willie Deery, who lived at the camp, is behind the proposed monument.
"This would be a fitting tribute," Mr Deery told BBC News NI.
"Hugo McConnell and myself thought about it for a long time and everyone has been really supportive.
"Yes, there were extremely difficult times and people even died on the camp. But there are so many lovely stories too.
"There's a team of people behind the scenes working on funding and we're hoping the model hut would attract visitors to the area.
"It would mark a very important era and the local people would appreciate it."
The site had 302 Nissen huts, a chapel, gym, laundry, canteen, barber's shop, theatre and even a jail.
But the huts had no water, electricity or heating.
After a public outcry, the Unionist Majority Corporation, which had obtained power through gerrymandering, granted temporary rentals to the new residents and charged rent.
That agreement was to last six months and the families were to be allocated housing. That didn't happen.
Actress Jane Russell sparked an international furore in 1951 when she adopted a child from a mother living in poverty within the camp.