'Mindless thugs' condemned after police petrol bomb attack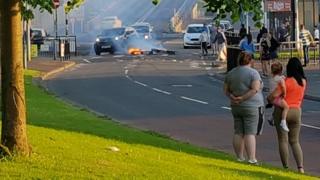 Police attending the scene where a woman died in the Bogside area of Londonderry were attacked with petrol bombs on Monday night.
Police said they came under attack by a "masked mob" throwing paint bombs and petrol bombs while attending the scene of a woman's sudden death in Rossville Street.
Materials were also set alight in the middle of a road.
The PSNI condemned the behaviour of those involved in the attack.
Chief Inspector Alan Hutton described their actions as "despicable."
He said: "They showed total disrespect for a grieving family at this sad time.
"The family of the deceased deserved the respect of the whole community to pay quiet reflection to their loved one.
"They were denied this right last night by the actions of these mindless thugs."
Sinn Fein councillor, Patricia Logue, also condemned the actions of the group.
She told BBC Radio Foyle: "This is a very very sad time for her family and the community.
"In the worst of the troubles, if there was a sudden death the police were allowed to go on and do their job. There is no excuse for this type of behaviour and it must stop."