Two men sentenced over £200K Derry cocaine seizure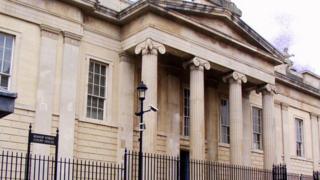 Two men who admitted possessing cocaine worth between £60,000 and £200,000 have been sentenced at Londonderry Crown Court.
Ethan McDonnell, 30, of Durrow Park, in the Bogside area of the city, was jailed for two years and eight months.
His 27-years-old co-accused, Emmett McIntyre, from Kular Court, Derry, was given a 12 month sentence, suspended for three years.
The men were stopped while driving through Derry on 11 December 2016.
The court heard police detected a strong smell of cannabis from inside the car and during a search of the vehicle police found deal bags, weighing scales and £700 in cash.
A small bag of cocaine was also found on McIntyre.
Seven bags containing 830 grams of cocaine were later discovered during a search of his Kular Court flat while a small quantity of cocaine and £4,500 were discovered in a search of Durrow Park home.
The court was told that after their arrest McDonnell took full responsibility for the cocaine found in his co-defendant's flat.
Emmet McIntyre's defence barrister said his client had made a monumental error of judgement in agreeing to keep the cocaine overnight for his co-defendant.
He said McIntyre had to move house subsequently because of threats from criminal elements.
Judge Philip Babington told McDonnell it was chilling that there were people like him who were willing to destroy people's lives by supplying cocaine.