Lisneal College: From 'inadequate' to award winning
By David Wilson
BBC News NI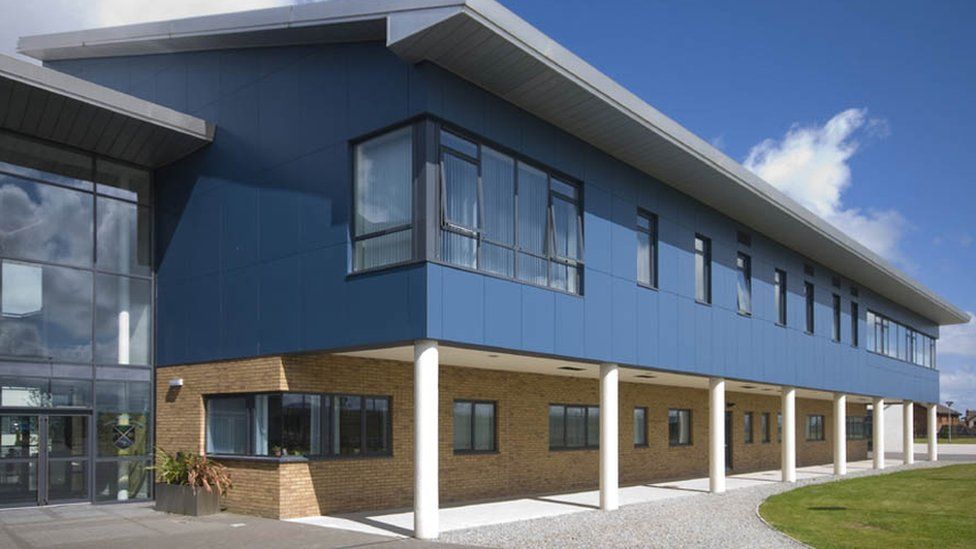 A Londonderry school once deemed inadequate has won an award for its science teaching.
Lisneal College has been named Northern Ireland's STEM ((Science, Technology, Engineering and Mathematics) school of 2018.
A 2010 report on the school found levels of attainment in public examinations were "inadequate".
The school's headteacher said the transformation of his school is due to the hard work and commitment of staff.
"Every teacher and member of the non teaching staff is entirely dedicated to what we are trying to achieve at Lisneal," Michael Allen told BBC News NI.
"The kids get one chance so we have to do our utmost to get it right.
"We think we have found a formula that works in the main, but we are always adjusting its edges."
Back in 2010 education inspectors gave the school - formed from the amalgamation of Clondermot and Faughan Valley High Schools in 2004 - a scathing report.
Special measures were introduced at the school meaning outside advisers were largely responsible for the school's affairs.
The inspector's report said: "In the majority of classes, the pupils are reluctant to engage in and contribute to the learning process."
Since then, the proportion of 16 year olds getting the equivalent of five GCSEs at grade C or above has soared from 33% to 87.5%.
Pupils attaining 5 GCSEs above grade C including maths and English is now 17% above the national average while boys and girls both perform equally well.
Last year almost 64% of both boys and girls at Lisneal achieved 5 GCSEs including English and maths.
"It is all to do with aspiration," Susan Wilson, vice principal at Lisneal said.
"We have an every child can succeed philosophy and we work to identify and build on the strengths of every pupil as an individual."
A member of the teaching staff when the 2010 report "completely devastated" the school, Ms Wilson said the report sparked a period of self evaluation.
"The body of teaching staff is not dramatically different now then it was in 2010 but there were a lot of challenges from the amalgamation.
"It was a confusing time for a lot of very good teachers, some departments were having success but there were inconsistencies across departments.
"We identified priorities and put a renewed focus on what really mattered," she said.
Appointed principal in 2015, Mr Allen said a desire to improve had already gathered momentum.
"I could see there was a mountain of potential here across every department that could see us become an outstanding school," he said.
"There were those within the wider community who were willing to boo the school from the side-lines, write it off as a 'bad school'.
"A lot of work was done initially to convince people to trust us and trust in what we were doing."
"Success is contagious, we want every pupil to know success is a good thing," Mr Allen said.
"But we are always looking ahead to tomorrow and we know that we have to work as hard as we did today. We can never be complacent," he added.
The Project Enthuse STEM school of the year award recognises the dedication of teachers in the development of STEM subjects.
In a double celebration for the Derry school, Lisneal teacher Colin Louden was also named STEM teacher of the year for 2018.