Kathleen Thompson: Inquest adjourned until soldiers found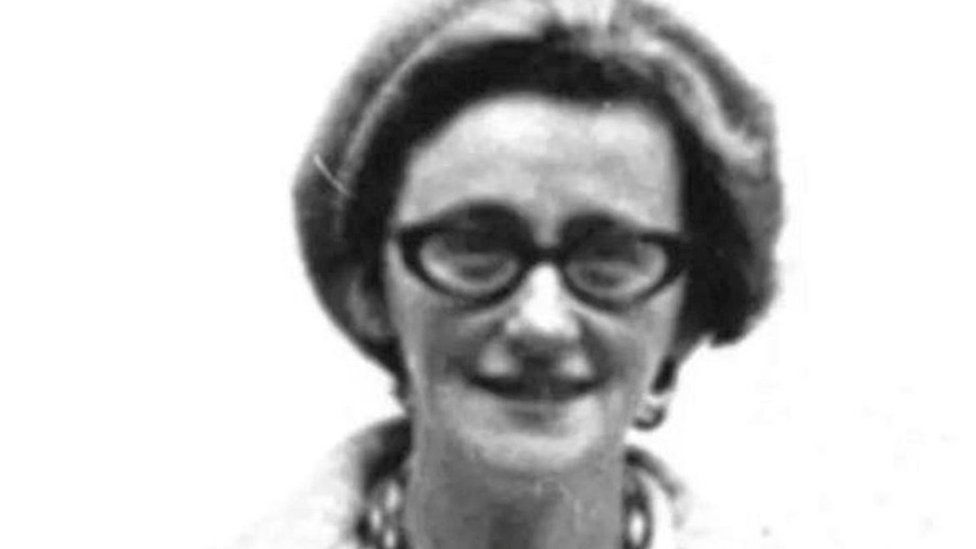 The inquest into the death of Kathleen Thompson has been adjourned so three soldiers present on the night can be traced.
Mrs Thompson, 47, was shot dead in the garden of her Londonderry home on 6 November 1971, during an Army raid on the Creggan estate.
A previous inquest into her death, held in 1972, returned an open verdict.
Soldier D insisted he could not remember the names of three other soldiers, known as A, B and C.
The inquest was halted on Thursday when it emerged the Ministry of Defence (MoD) had not been able to identify the three soldiers.
It was adjourned just before an Army major gave his evidence.
'Lack of real engagement'
Matthew Lewsley from the MoD's Inquest Review Unit told the coroner the MoD was unable to identify soldiers A, B and C when searches of Army records of the Royal Green Jackets and Royal Anglian Regiments were carried out.
Their written statements were read out at the inquest, sitting in Derry, in March but the MoD could not produce the original copy which would have had identified them.
But a barrister representing the Thompson family pointed out to Mr Lewsley that the Bloody Sunday Inquiry was able to produce the names of every single soldier present in Derry on 31 January 1972 - just two months after Mrs Thompson was killed.
This included the names of all members of the Royal Green Jackets and Royal Anglican Regiment.
The barrister asked Mr Lewsley if he had contacted those involved in the Bloody Sunday Inquiry to ask for the list, to which he replied "no" but he would be "happy to do that".
Mr Lewsley explained that he had identified a total of 155 potential names and had reduced this to a more likely 91. He had written to them but only received responses from 55.
The barrister suggested this may be because an organisation of former soldiers had been set up and was "encouraging former soldiers not to engage" with the legacy inquest process relating to Northern Ireland.
She also suggested to Mr Lewsley that the reason the MoD were unable to locate soldiers A, B and C was because of a "lack of real engagement" with the legacy inquest process, which Mr Lewsley disagreed with.
Through their barrister, Mrs Thompson's family said they would be unhappy for the inquest to finish without further efforts being made to locate soldiers A, B and C, which the coroner said she agreed with.
A letter will be sent from the family's legal representative to the MoD and coroner's office outlining the search avenues they want the MoD to pursue to find the three soldiers.
It was agreed that evidence from Major Williamson would be best heard after the three soldiers, if they are located.
A preliminary hearing will take place in Laganside Court on 28 June.