Demolished Londonderry house still receives post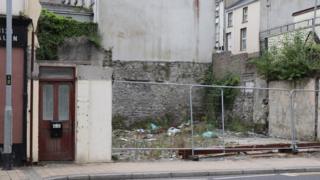 Royal Mail has said it will continue to send post to a letterbox in Londonderry, even though the house attached to it was demolished.
The door at 66 Spencer Road in the Waterside still stands with a letterbox attached to it.
Local residents told BBC News NI that letters are still being delivered.
Royal Mail said: "We are duty bound to deliver mail... as long as there is a letterbox and it is safe for postmen and women to do so."
Hugh O'Doherty, who owns a cafe on Spencer Road, told BBC News NI that letters can been seen sticking out of the letterbox at times.
"It was demolished maybe nine months or a year ago," he added.
"It was just an ordinary slot in the door. Someone then screwed on a letterbox after it was demolished.
Mr O'Doherty also said rubbish thrown onto the site was attracting vermin.
"It's a real eyesore on the street.
"I would like to see the site built on, tidied up or properly screened off."
Derry City and Strabane District Council said a planning application for a three storey building had been submitted for the site in October 2017.