Special Olympics selection bowls over three sisters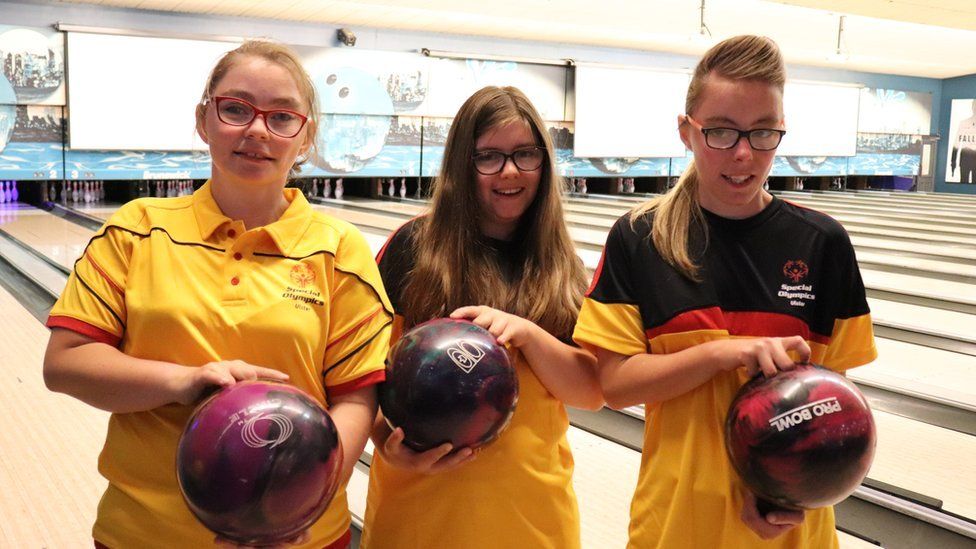 The ten-pin bowling competition at the Special Olympics Ireland will be a family affair after three sisters from Londonderry were selected for Team Ulster.
Amy, Ann and Natasha Delaney are three of 1,600 athletes competing and will play alongside each other as teammates in the bowling contest.
The siblings travelled to Dublin on Thursday for the four-day long event.
They will attend the opening ceremony later on Thursday.
Amy, 15, Ann, 25 and Natasha, 27 told BBC Radio Foyle that: "We practice every Tuesday and Thursday.
"Two games on the Tuesday and one game on the Thursday, and we enjoy it."
The girls managed to squeeze in a last-minute training session at Brunswick Moviebowl in Derry on Tuesday afternoon and they were confident ahead of the games.
"I think we can bring back gold medals.
"We've got our own balls for the Special Olympics - it's our good luck charm," the sisters explained.
What are the Special Olympics Ireland?
The Special Olympics Ireland event takes place from June 14 to June 17 in Dublin, with 1,600 athletes taking part.
It is main event of a sport organisation for people who have intellectual (learning) disabilities and aims to develop individuals through sport.
The organisation has almost 9,000 athletes participating in 14 sports in a number of groups all over Ireland.
These athletes are supported by their families and a team of 25,000 volunteers who give their time to help out at sport and fundraising events.
Successful athletes in the Special Olympics Ireland games qualify to represent Ireland in the Special Olympics World Summer Games in Abu Dhabi in 2019.
With Amy not bowling for as long as Ann and Natasha, having just five years experience compared to her older sisters' 15 years, the news of all three being selected came as a surprise to coach Declan.
"As far as we know it's never happened to any other club in Ireland, or indeed the world as far as we know, so it's a momentous event for the Special Olympics in Ireland and the world.
"It's very surprising and we're all delighted about it," he said.
The coaches said they were particularly proud as the sisters had not missed a single day of training and have been extremely committed to the competition.
Ulster bowling coach Angela Stewart said: "Believe me - it's not easy.
"The three girls are really natural at the bowling, they are fantastic and it was lovely to see the three of them getting through.
"They're really gifted and their sportsmanship has been fantastic throughout, and it's not just about gold medals
"The main thing is they're taking part, having fun and enjoying it."