Strabane golfer shoots hole-in-one at age 88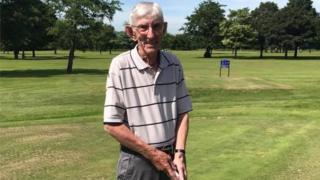 A County Tyrone golfer has scored the second hole in one of his playing career, just months shy of his 89th birthday.
Jimmy Coyle holed his three wood tee shot at the Strabane Golf Club's 165 yard seventh hole on Monday.
The odds of a golfer scoring a hole-in-one are estimated at around 12,500 to one
The Strabane octogenarian, who will turn 89 in October, scored his first hole in one in his mid-70s.
Jimmy, who played his first round of golf in 1969, said he initially thought he had over shot the green.
"It's quite a long hole," he said.
"And when I hit it I thought that's not going to stop, that it had gone over the back of the green."
He said it was only when he got to the hole that he realised the ball was in the cup.
"I suppose I was happy enough, as shots go it was alright," he added.
Every golfer, he said, needs a "fair share of luck" when it comes to holing out.
His latest ace comes more than ten years after Jimmy shot his first hole on one on the second hole at the same course.
Strabane Golf Club's Tommy Forbes said everyone in the clubhouse stood to applaud Jimmy when he completed his round.
"He's an incredible man and a real gentleman. He always walks the entire course carrying his bag, Jimmy never uses a buggy.
"And he is a great golfer.
"When he was 86, Jimmy shot a round of 85 here and is still the only person I know who has ever shot a round of golf lower than their age," he said.