Derry City revise ticket prices after Europa rise anger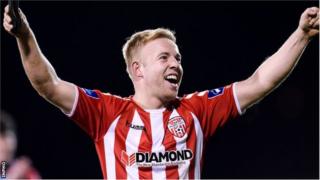 Derry City have agreed to cut ticket prices for fans under the age of 16 for their upcoming Europa League match following criticism of a ticket price hike for the game.
The club have said children will now pay £10 for the game with Dinamo Minsk of Belarus.
Tickets for the game were initially priced at £25 for adults and £20 for under 16s.
Match tickets usually cost £14 and £12 for home games.
The rise in cost sparked an angry reaction from many fans with some saying they were being priced out of the game.
A spokesman for the club said Derry City were "obviously aware of the reaction to the recent announcement of ticket prices".
He confirmed tickets for all under 16s would now be priced at £10.
Earlier on Wednesday Derry City Director Denis Bradley had told BBC Radio Foyle's Mark Patterson Show the club would allow the first 300 under 16s into the game for free.
The club spokesman said this is not the case.
"There has been a miscommunication in the message delivered from Derry City Football Club today," he said.
Derry play Dinamo Minsk at the Brandywell on July 12.