Ship's bell honouring Battle of Atlantic fallen on display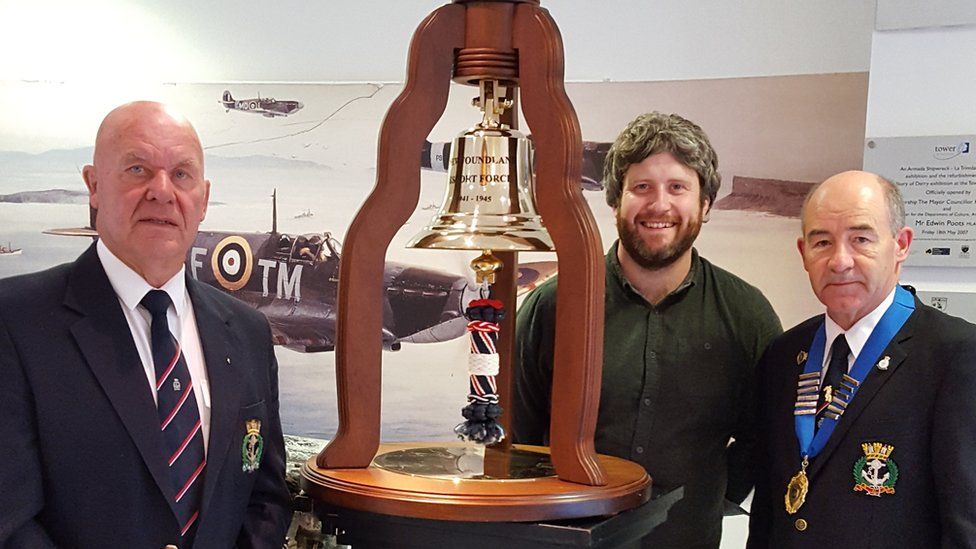 The third in a series of ship's bells made to honour the fallen of the Battle of the Atlantic has gone on display in Londonderry.
The Newfoundland Escort Force Bell honours the sacrifices made protecting merchant convoys during World War II.
It is the third bell to be commissioned by Royal Navy and Royal Canadian Navy veteran associations.
The bells are being permanently housed in Derry, Halifax, Nova Scotia and St John's, Newfoundland.
As wartime ports, the three cities formed what was known as the 'Triangle Run' during the Battle of the Atlantic.
"The project to commission the set of three convoy bells is now almost complete," chairman of the Londonderry Branch of the Royal Naval Association, Robert Buchanan, said.
Designed by Mr Buchanan, and made in Derry, the latest bell was consecrated in St Columb's Cathedral earlier this year.
It honours the Newfoundland Escort Force who provided protection to the wartime merchant convoys travelling between Canada and the UK.
The bell is on display at the Tower Museum before it is presented to the city of St John's in September.
"We are very pleased that Museum Services are able to display the bell before it goes to its permanent home in St John's, Newfoundland," Mr Buchanan added.
The Tower Museum also permanently houses the Newfie-Derry Run Bell, the second of the three bells.
It had been consecrated in the Anglican Cathedral of St John the Baptist in St John's Newfoundland, and transported to Derry in 2007.
The first of the three bells was consecrated in 2005 and is now on display in St Brendan's Church, in the Canadian city of Halifax.
Mr Buchanan said he hoped the public would take the opportunity to see the third and final convoy bell before it crosses the Atlantic, and to learn "a little bit more about the Battle of the Atlantic."
It was the longest continuous military campaign of WW II and was fought for the control of vital supply routes, beginning as war broke out in 1939.
The naval base at Derry - shared by the Royal Navy, the Royal Canadian Navy and the United States Navy - was vital to the protection of convoys in the Atlantic and, at one time, 140 Allied escort ships were based on the River Foyle.
More than 66,000 Allied merchant seamen, sailors and airmen died, with 175 Allied warships and 5,000 merchant ships destroyed by German U-boats.