Stranded football fans hitch a ride home on team bus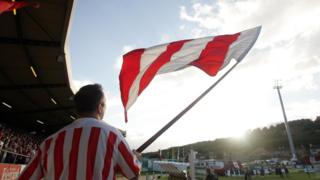 A group of football fans stranded 150 miles (255kms) from home have made it back safe and sound after hitching a ride on their club's team bus.
The 17 Derry City fans were stuck in Dublin following the game against Shamrock Rovers on Friday.
When their own bus failed to start, the Red Partisans Supporters' Club were left pondering how they would get home.
Fan Adrian McGowan said they had little option but to ask the team for a ride home.
After a quick chat with his players, Derry City manager Kenny Shiels beckoned the fans on board - provided there was no alcohol on the journey.
"Kenny asked us for a couple of minutes to chat to the players and told us we could get on but there was to be no drinking.
"We got on and they got us home, thank God," Adrian told the Derry Journal.
Bus driver Nigel Skuce said the manager did not hesitate to offer the fans a way home.
"Kenny made a real good point and said, 'we'll not leave any supporter behind'.
"His only worry was we didn't have enough seats."
The driver said a few of the fans seemed "star-struck being on the team bus and all."
He said the post defeat 150 mile ride home was a quiet one.
Shamrock Rovers beat Derry City 2-0.