Rally supports residents after Derry attacks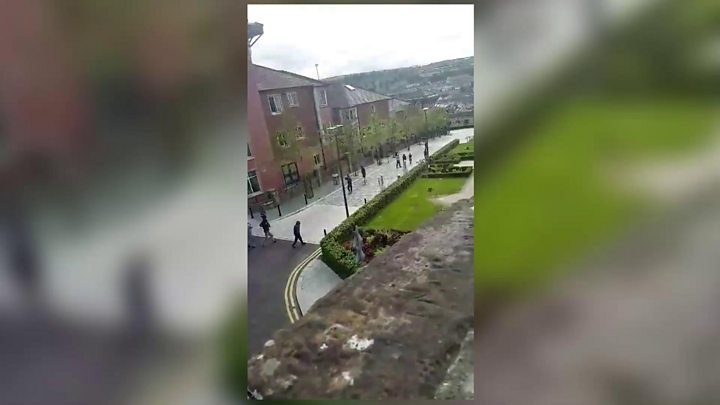 More than 100 people gathered in Londonderry's Bogside on Monday night to show their support for residents in the Fountain estate.
The crowd walked from the Bogside to the Fountain and past the sheltered accommodation which was attacked during disturbances over the weekend.
More than 70 petrol bombs were thrown.
Homes in the predominantly Protestant Fountain estate were targeted as well as elderly people living in sheltered accommodation.
A petrol bomb attack on the sheltered accommodation has left elderly residents "living in fear", with one woman saying she may move out.
The petrol bomb was thrown from the Bogside towards Alexander House on Bishop Street on Sunday, during the third consecutive night of trouble.
The woman told BBC Radio Foyle she was afraid to go to bed, fearing a petrol bomb would smash through her window.
She said she would move if the violence continues.
'Traumatised'
The elderly resident, who did not want to be named, said: "I was afraid for my life, really really afraid.
"I prepared myself and I sat here terrified to go to my bed."
She described how she packed a bag so she was ready to leave in case the building caught fire.
In all more than 30 petrol bombs were thrown at police on Saturday night in what was a second weekend of trouble in the area.
Most of the trouble happened at the Fountain estate interface and Nailor's Row in the city's Bogside.
The Lecky Road flyover was also blocked with burning bins.
Some of the people throwing petrol bombs were as young as 10, according to the PSNI.
Alexander House supports elderly and vulnerable people.
"There are people living in fear," said PSNI Ch Insp Alan Hutton.
"There were no injuries but the fear alone is significant. We have to consider the feelings of those vulnerable people in Alexander House.
"Thankfully officers were on hand to put the flames out.
"We have not made any arrests following trouble at the weekend yet. We do have a lot of people traumatised and living in fear following recent events."
'Orchestrated'
There has been widespread condemnation from the DUP, Sinn Féin, the SDLP and the UUP.
"We welcome more cross community work and it's great to see the widespread condemnation," Insp Hutton added.
"I haven't heard too much from independent politicians recently though.
"We have stepped up our patrols in the area but there are clearly people being sucked in to cause trouble. It may even be orchestrated."
Community-led rally
Sinn Féin MLA for Foyle, Karen Mullan, said: "The recent spate of attacks which have seen petrol bombs thrown into the Fountain Estate and right outside the gates of Alexander House are a disgrace and need to stop.
"Wrecking and terrorising your own community or a neighbouring community is wrong and is not reflective of the proud community that is the Bogside," she said.
"Therefore, I commend the local community for organising tonight's rally to show their opposition to the anti-social elements behind these disturbances."