Concern over Derry Omagh court appearance travel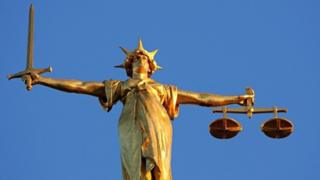 The district judge at Londonderry Magistrate's Court, which is currently sitting in Omagh, has raised the issue of defendants and their alleged victims travelling on the same bus.
Cases have been moved to Omagh because of ongoing maintenance work on the Bishop Street courthouse.
Judge Barney McElholm raised the matter in the case of a woman who was allegedly harassed by a man.
The woman said she was concerned about travelling on the same bus as the man.
'Stress'
Mr McElholm said such complainants should contact either Foyle Women's Aid or other services to see if they are able to organise transport for complainants in such cases.
Kevin Casey, who is a local solicitor, criticised the situation.
"One can only imagine the stress it would cause to someone. There has been a lack of consultation," Mr Casey said.
"Clients are already asking how they are going to get to Omagh."
Victim Support NI has urged the Northern Ireland Courts and Tribunal Service to consider live links for all witnesses and victims during the court closure.
'Disruption is inevitable'
A spokesperson for the charity said: "Victim Support NI respects the need to ensure safety and maintenance of the building, and recognise the desire to keep disruption to a minimum.
"We also urge the NICTS to consider making the live link and remote facilities to be made available to all victims and witnesses, if they choose to use it whilst the courthouse remains closed."
A spokesperson for Northern Ireland's Court Service told BBC News NI: "We acknowledge that some disruption is inevitable, however every effort has been made to minimise this, including carrying out the essential works over the summer recess period.
"We note the comments made by Judge McElholm in the context of a specific case and we will continue to work with partner organisations to mitigate the impact and provide support for victims and witnesses.
"The health and safety of court users is paramount and the patience and cooperation of all court users, the judiciary, legal professionals, staff and the public during this time is greatly appreciated."