Golf fans wrongly quoted £20k for two night hotel stay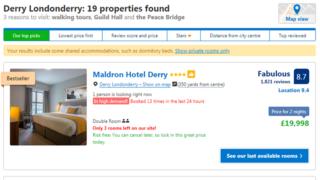 Golf fans could not believe their eyes after they were quoted £20,000 for a two-night stay at a Londonderry hotel next July.
They could be forgiven for thinking that the price tag was due to the fact that the world's most famous golf tournament is taking place at the same time in nearby Portrush.
Next year will mark the first time that the Open Championship has been hosted by Royal Portrush since 1951 and it takes place between 18 July and 21 July.
However it has emerged that the online price some social media users were quoted over the weekend for their stay at the city's Maldron Hotel was an error.
The dates in question were 20 July to 22 July 2019, covering the final days of the world famous tournament.
A spokesperson for the Maldron Hotel group said the inflated double room price for the final two days of the championship offered on Booking.com and Expedia was an error.
"It is now being amended," the spokesperson added.
Eoin McDevitt was among the Twitter users to flag up the erroneous quote on Sunday.
He told his followers that he had taken a "notion to attend" next year's event and began to look for a hotel.
"Was not expecting accommodation anywhere nearby to come cheap but the €22,378 for 2 nights in a double room in a Derry hotel seems a tad excessive," he wrote.
His initial post sparked a good humoured response online.
Some pointed to a poor sterling/euro exchange rate, others blamed Brexit.
There were offers of alternative and (only slightly cheaper) accommodation, and of helicopter rides to the event at a price below the mistaken hotel price.
The price for the Londonderry hotel has now been rectified on both booking sites.