Simon Coveney visits Fountain estate after Derry trouble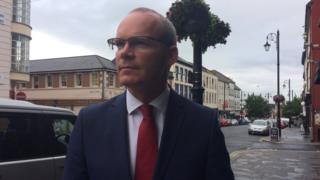 The Irish foreign minister has visited the Fountain estate in Londonderry following recent trouble.
Petrol bombs were thrown in to the Fountain estate in July and police came under serious attack with petrol bombs and gunshots in the Bogside.
The DUP leader Arlene Foster visited the Fountain shortly after the trouble. Simon Coveney visited the Bogside only.
On Monday, Mr Coveney visited the predominantly protestant estate and spoke to residents.
"The last time I was here I focused on the Bogside," said the Irish tánaiste (deputy prime minister).
"I was very conscious that I didn't have an opportunity to meet many unionists.
"Today I was anxious to visit the Fountain. We had a great meeting in the youth centre and subsequently met a number of church leaders and community leaders to talk about what happened."
Mr Coveney said he was made to feel very welcome in the Fountain estate and that he played a game of pool with a young person.
"He beat me I'm glad to say. It was a very warm reception," he said.
"I'm here to listen to everybody and not just one side. That's an important role for me to play."