City deal for Derry: 'Submit your bid', says Hammond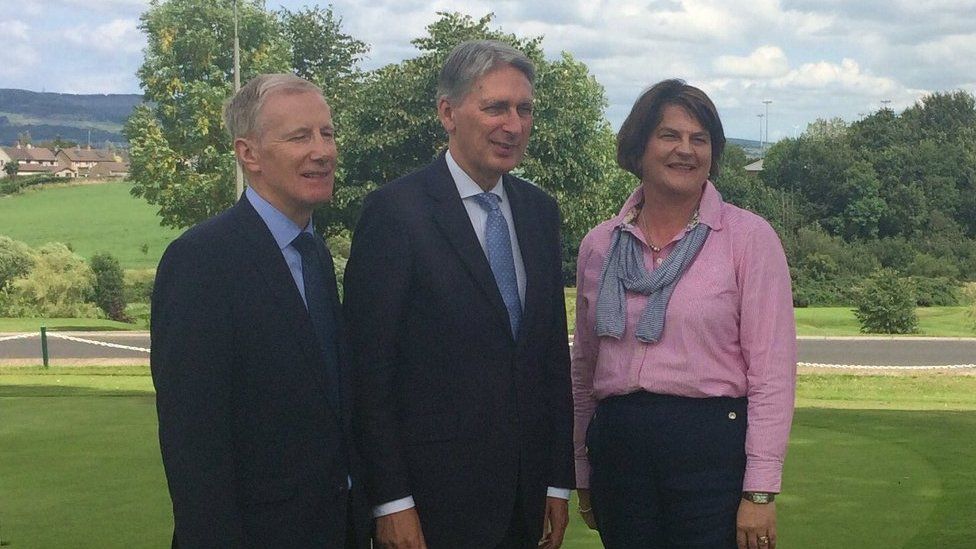 The government will consider proposals for a city deal for Londonderry, the Chancellor Philip Hammond has said.
City deal status gives local areas specific powers to help support economic growth and job creation.
During a visit to Northern Ireland, Mr Hammond said the local council, the university and businesses now have a chance to submit a case for the special economic status.
A city deal could lead to millions of pounds of investment.
"Northern Ireland is leading the way within the UK in productivity growth," said Mr Hammond.
"I want to support this progress by inviting a bid for a Derry-Londonderry city deal, an opportunity for the region to continue to drive forward economic growth and build an economy that works for everyone."
Northern Ireland's secretary of state Karen Bradley welcomed the announcement and said she would work with the local agencies to make progress.
"It is a testament to the many local partners who have worked tirelessly for progress to be made," said Karen Bradley.
Sinn Fein MP Elisha McCallion said: "Until today the British government has resisted giving a formal commitment to a city deal for the north west.
"Today's breakthrough is a result of the pressure placed on the British government by Sinn Féin and key stakeholders."
SDLP leader Colum Eastwood said: "The SDLP has led this campaign for a city deal for Derry and we are delighted to see it progress to the next step.
"The benefits stemming from a substantial economic intervention in the north west cannot be overstated. Both Derry and Strabane have waited a long time to receive the investment it deserves to reach its full potential."
DUP MLA Gary Middleton said: "Both myself and my party leader Arlene Foster held discussions earlier this year with the council and Foyle Port on the role a city deal could play as a catalyst for business growth and job creation.
"This is not the end of the road however, but simply a staging post towards the ultimate goal."