Derry's Foyle Bridge gets 'messages of hope'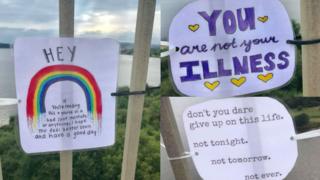 Dozens of uplifting messages have been attached to the Foyle Bridge in Londonderry for people struggling with mental health issues.
Gary Clarke, a teacher in Derry, came up with the idea and recruited people from across the city to design the posters.
One message reads: "When you can't find the sunshine, be the sunshine." Another says: "You are not your illness."
Mr Clarke told BBC News NI he has been inundated with people contacting him.
"I set up a Facebook page and people just want to help spread a positive message," said Gary.
"People have also been sending me messages and ringing me because they want to talk about their problems. That is fine with me. People should feel free to speak out."
He added: "Depression and anxiety are silent illnesses. So many people are affected in this city. I hope these posters can help at least one person.
"One woman contacted me because she lost her son to suicide years ago. She wanted to write a message, but struggled.
"I drove to her and we both went and placed the messages of hope on the bridge together. It was an emotional moment."
Where to get help?
If you are in the UK, you can call the Samaritans on 116 123.
For support and more information on emotional distress, click here. You can also call for free, at any time, to hear recorded information on 0800 066 066.
"I'm a teacher and I can see that young people do not like talking about their problems," Gary said.
"Some of our young people don't even know how to approach adults to talk.
"Yes, drugs and alcohol are a serious issue but so are things like exams and peer pressure."
Lifeline provides support to people suffering distress or despair in Northern Ireland, regardless of age or district.
Phone: 0808 808 8000 (24 hours a day) or visit their website.