NI Secretary Karen Bradley visits Fountain estate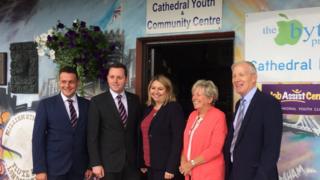 Northern Ireland Secretary Karen Bradley has met residents in Londonderry's Fountain estate to talk about recent sectarian violence.
She also held talks with Bogside residents and the PSNI.
There were several nights of violence in Derry earlier in July, with gunshots being fired at police in the Bogside.
Petrol bombs were also thrown at the PSNI and into the Fountain, a predominantly Protestant estate.
Tánaiste (Irish deputy prime minister) Simon Coveney visited the Fountain last week.
Mrs Bradley was met by DUP MP Gregory Campbell and DUP MLA Gary Middleton during her visit to the estate.
Speaking on her visit to the Bogside, she said: "I have been able to meet those who were directly affected by recent disorder in the city and to hear how it impacted the local community.
"I want to pay tribute to local PSNI officers for their efforts in dealing with what was a challenging week of unrest, as well as thanking others in the community who worked hard to prevent further disturbances."
Mrs Bradley also met council chiefs and business leaders about the potential of securing extra investment through the city deal.
Derry City and Strabane District Council was invited to bid for the funding by Chancellor Phillip Hammond.
"Numerous local partners have already put a huge amount of effort into progressing a city deal bid, especially Derry City and Strabane District Council which has been at the forefront in developing the basis for a city deal proposition," Mrs Bradley said.
"Today was a useful opportunity to hear some more detail around the current proposition and how local stakeholders believe it will contribute to the delivery of the economic transformation that is needed in the region," she added.
President of Londonderry Chamber of Commerce, Jennifer McKeever, said the meeting "involved a very positive discussion on proposing a city deal which is focused on innovation."
"We discussed how a good deal for Derry will be an antidote to Brexit - one which embraces our geographical position as a cross border economy and has innovation at its heart," she said.