Police investigate 'pigeon bait' peregrine falcon death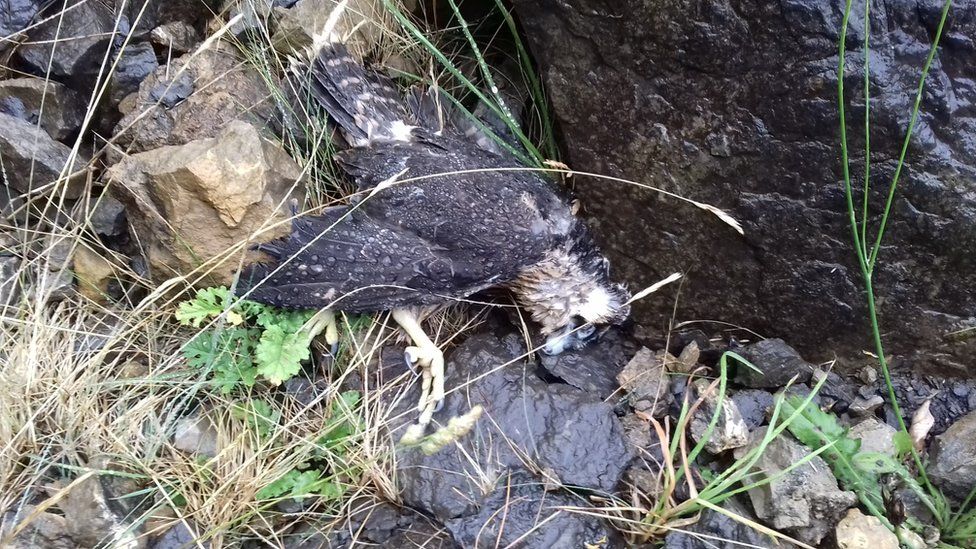 A police investigation is under way after the suspected poisoning of a peregrine falcon in County Tyrone.
The protected bird of prey and a pigeon were found dead in the Scraghey area of Castlederg on 10 July, but details have just been made public.
It is believed the pigeon was used as poisoned bait for the falcon.
Jim Wells of the Northern Ireland Raptor Study Group described the death of the birds as a "dreadful crime".
Mr Wells told The Mark Patterson Show: "Basically what happened is someone tethered a live pigeon to a rock with string and the bird [was] covered in poison while still alive.
"It flapped about, the bird of prey saw it, fed some of it to its young and then the adult has disappeared."
He said if a member of the public had discovered the pigeon and lifted it "we could be dealing with something a lot more serious".
Toxicology tests are currently being carried out on the dead birds.
Dr Eimear Rooney of the Partnership for Action against Wildlife Crime NI said there are between 80 and 90 breeding pairs of peregrines across the whole of Northern Ireland, of which around 55 pairs are successful in producing young.
"The population of peregrines in Northern Ireland is limited by available nest sites and thus has remained fairly stable for several years.
"However, illegal killing could result in serious implication for the viability of the species here. Peregrine falcons are primary predators and removal of such predators from our ecosystems can have serious consequences on a wide range of species."
Police have appealed for anyone with information to come forward.