Derry Girls crowned Radio Times comedy champion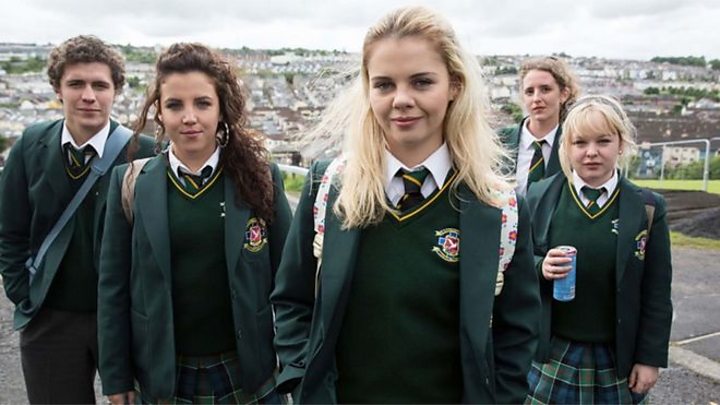 The Channel 4 sitcom Derry Girls has been awarded the Radio Times comedy champion title.
Set in 1990s Londonderry, the show's success has seen Channel 4 commission a second series.
More than 2.5 million people watched the first episode - it was the channel's biggest comedy series in five years.
The show was up against Inside No 9, written by Reece Shearsmith and Steve Pemberton.
Almost one million votes were cast online in an "epic battle", according to the Radio Times.
Writer Lisa McGee, a Derry native, thanked those who had backed the show in the poll.
She singled out a former teacher at Thornhill College, the school she attended and which inspired the fictional Immaculate Conception school that features in the show.
She told BBC Radio Foyle's Mark Patterson Show: "I'd just like to say a special thank you to Margaret O'Hara, who was a teacher at Thornhill when I was there.
"She just really rallied the troops and past pupils and got them voting - so that was a great help for us."
Derry Girls took the title with 50.1% of the vote.
"I think the dedicated votes were definitely coming from Derry and Donegal," added Lisa.
"The way people got behind us - I just sort of knew they would - but I didn't think we'd actually manage it in the end because they have a lot of fans, the other guys.
"But in the end we did it and it was brilliant."
The sitcom follows a group of four teenage girls from Derry, and one of the girl's male cousins from England, as they navigate their way through school life in the 1990s during the Troubles.
Asked why she thought the public have become so enamoured with the comedy, Lisa said: "I think people remember that time in their lives - you know when you're that age and you're 16, it was very small things that seemed so important.
"So I think there is that for Irish people, as well as it being about a very specific time in our history.
"Also people just seem to get behind that wee gang - they like those guys and that's fantastic."