Dog fouling: 22 fines in Derry and Strabane since 2015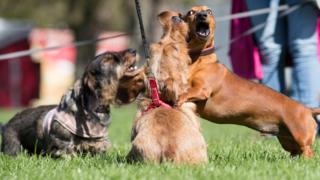 A council in Northern Ireland has defended its record on dog fouling after issuing just 22 fines despite receiving more than 5,000 complaints since 2015.
Derry City and Strabane District Council said its policy balances both "enforcement and education."
Dog owners can be fined £80 if they fail to clean up after their pet.
The 22 fines were issued in Derry and Strabane despite 5,078 complaints over the last three years.
A council spokesperson said dog fouling continues to be "a blight throughout the council area" but patrols, increased bins and signage, education initiatives and the introduction of CCTV cameras in problem areas "have seen significant improvement".
They added: "We are also dependent on the support of citizens and ask that they report any issues of dog fouling and where possible provide additional information such the location of incidents, problem times of the day and ideally the details of dogs and dog owners.
"It is also important to note that the vast majority of dog owners behave responsibly and clear up their dog's mess. More than 50 tonnes of dog foul per year has been collected from dog foul bins throughout the council area."
Fixed penalty notices are issued only where a council official has witnessed dog fouling.
SDLP councillor Tina Gardiner said there appeared to be a huge discrepancy between the number of complaints and the amount of fines.
"Dog fouling isn't just something that looks terrible it actually is a healthcare concern," she added.
A BBC Freedom of Information request further revealed that 802 stray dogs have been seized in Derry and Strabane since 2015.
The majority have been re-homed with the help of local animal charities.
In the past five years 37 dogs were put to sleep.