Getting fit when living with cancer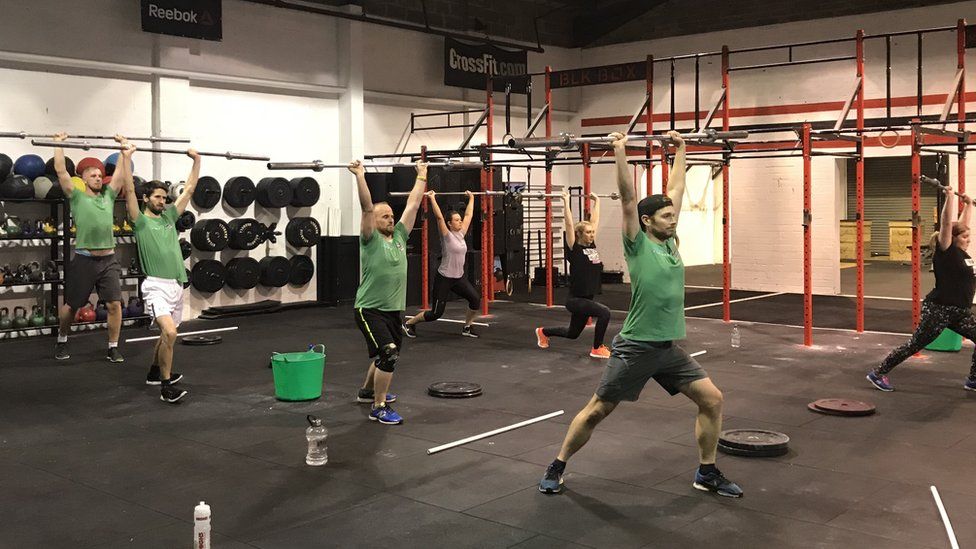 Exercise has long been seen as key to a healthy lifestyle.
But what role does getting active play when you're dealing with a cancer diagnosis or are in recovery?
Rest and recuperation was traditionally seen as best, but now experts say exercise helps overcome the effects of the illness and its treatment.
It is a theory being explored by two innovative healthy living projects in Northern Ireland.
Simon Darby is a social worker for children's cancer charity CLIC Sargent in Northern Ireland and the man behind the MOVE Forward programme.
It is a specially tailored CrossFit programme for teenagers and young adults in recovery and more than 25 of them have taken part since its launch in January.
Simon Darby insisted the benefits can't be understated.
"It was developed to help young people who struggle to return to work or education following cancer treatment due to the deterioration of their physical fitness," he said.
"Move Forward is different to any other exercise programme because it allows the participants to improve their fitness together in a group exclusively for young people with cancer, which means they support and lean on each other without any judgement being passed," he said.
Pull ups, weightlifting, running, rowing and even handstands are central to the fitness regime.
Everything is customised for those taking part, with activities based on their needs and abilities.
Those who have already had a go say getting involved has improved their mood, energy levels and ability to deal with anxiety.
Chloe Allen, 20, from Ballymoney, was diagnosed with thyroid cancer in 2014 when she was just 16.
She underwent surgery, followed by radioactive iodine treatment, after which she had to go into isolation for a few days.
After meeting Simon at a photography night for young people, she decided to try his CrossFit programme.
Chloe said: "I hadn't really exercised since rowing, which was before the diagnosis, so I thought I'd be really bad. It turned out to be a good way of getting fit and meeting other people.
"It was fun and inclusive. Simon would take us through the movements and then it was about improving the time it took you or how many rounds you could do in a set time. You're not competing so you can just enjoy it and work on your fitness.
"I've made some new friends and we have good craic together. There are a couple of girls who I see outside of the sessions now which is great."
It is an award-winning approach.
In September, the programme received the "Excellence in Rehabilitation" gong in the first Northern Ireland Health and Fitness Awards.
Like the Clic Sargent programme, Macmillan Cancer Support's Move More initiative is individually tailored to needs of those taking part.
Sean Hargan is the Macmillan's Move More co-ordinator in the Derry City and Strabane District council area and works with people of all ages.
Sessions can include swimming, wall climbing, walking or gym work.
"Around 70 people are actively engaged with the programme at present across the north west council area," said Mr Hargan.
Derry & Strabane Move More Climbing Video

Here is Annette achieving her goal. Thanks to Move More Coordinator Sean for capturing the moment. #movemoreni #lifewithcancer #thisgirlcan #socanyou For more information or to get involved in the Move More service please contact Sean 07872423754 / sean.hargan@derrystrabane.com

Posted by Move More NI on Tuesday, August 7, 2018
"Every session is adapted to suit the needs of our clients.
"It doesn't matter what stage you are at it is accessible for everyone. We are here to make sure that what they will do and what they take part in is the best thing for them.
"We adapt to suit everyone's needs."
He added the programme helps people get active and provides an opportunity to meet others in a similar situation.
And he too sees the positive impact on those taking part.
"It's very rewarding to see the changes in people over a few months, not just in terms of their physical health but also in terms of confidence-building," he said.
"We have people aged in their 20s right up to people in their 80s currently taking part.
"When they first come in it can be a bit intimidating, especially for those who haven't been in a leisure centre for years.
"But we are there to meet them and chat through where they are in terms of diagnosis and treatment. Then we work out what is right for them."
Alwyn Wilson started on the Move More programme at Derry's Foyle Arena shortly after completing six months of chemotherapy for multiple myeloma, an incurable cancer of the bone marrow.
Macmillan support staff at Altnagelvin Hospital's Cancer Centre first told the 69-year-old about the fitness scheme.
He said: "When you are having treatment all your focus is on getting through it.
"You can easily cut yourself off and close down socially, and you certainly do not feel like exercising - it's probably the last thing on your mind."
He insisted any reservations he had about the scheme were soon laid to rest.
"It had been a long time since I was involved in an exercise programme but everything is devised around what works best for me and my physical health is definitely improving.
"There's no doubt it is playing a big part in getting back to my pre-treatment self. And it's a great opportunity to meet new people and make new friends."
The programme also works to help combat the social isolation associated with living with cancer.
After exercising, everyone has the opportunity to sit, have a tea or coffee and chat.
"That's the chance for people to socialise, talk about anything and everything, not just about their shared experience of living with cancer," added Mr Hargan.
"We know that for some people living with cancer can be isolating, people can be sat at home, talking to nobody."
The Macmillan programme operates across all 11 council areas in Northern Ireland.