Londonderry maritime museum plans stalled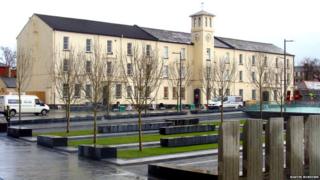 Work on a museum marking Londonderry's maritime history has stalled because of Northern Ireland's political stalemate.
Planning permission was granted for the £11.2m maritime museum at Ebrington in November 2017.
Derry City and Strabane District Council said museum plans are now at an advanced design stage.
But the council also said that because of "the current political situation" the required funding cannot be released.
Northern Ireland's devolved government collapsed in January 2017.
A council spokeswoman told BBC Radio Foyle's Mark Patterson Show the museum will have a "have a pivotal role in developing the tourism potential of the north west."
"The overall budget for the project is £11.2m and funding has been secured from Heritage Lottery Fund and other private funders however due to the current political situation whilst other funders in particular Tourism NI and the Executive Office are supporting there is currently no capital fund available to release the funding," she said.
Regeneration
On Thursday, the company building a £12m whiskey distillery at Ebrington confirmed the project will not go ahead.
Ebrington is the largest regeneration site in Derry.
A former naval base that opened in 1841, it was known as HMS Sea Eagle during World War Two, and was an important part of the North Atlantic Command.
The 29-acre site continued to operate as a military barracks until 2003.