Londonderry arson: Escape route blocked for mum and son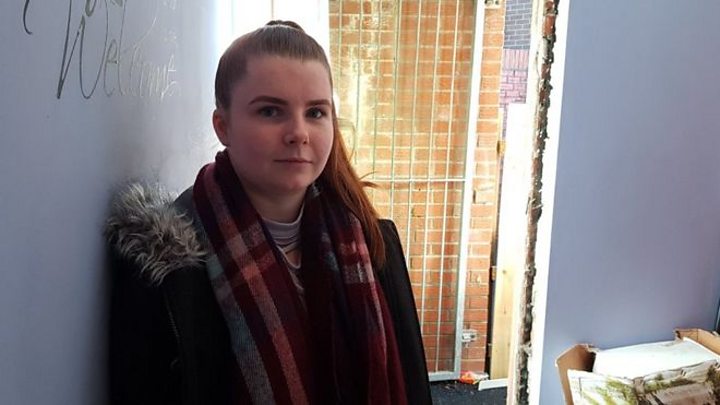 A Londonderry mother has said she feared she was going to die alongside her five-year-old son in an arson attack on their home.
Lauren Harkin, 23, and her son, Tyler, were rescued from their home at Galliagh Park at 21:50 GMT on Sunday.
A sofa was found set alight against the front door. Two bins were also set on fire below Tyler's bedroom window.
The police described it as a "reckless act that could have resulted in fatalities".
"Whoever was involved wanted to cause death and destruction and their actions should be condemned by the local community," said the police.
"Thankfully no one lost their lives but we need anyone with any information to contact police to bring those responsible to justice."
'Petrified'
Miss Harkin told BBC News NI that when she went to check on her son in bed, she saw flames at the front door.
"I called the fire brigade and they told us to get into the kitchen. There was no way out at all," she said.
"We had to get lifted out the kitchen window. I was petrified for me and my son, and in shock."
Miss Harkin said she wants to leave her Galliagh home where she grew up.
"We had to be carried out of our own home by a fireman. I want to thank him so much.
"My son is six next week. It puts things into perspective. We might not be here today."
'Reckless'
Northern Ireland Fire and Rescue Service Group commander Andy Burns said he understood the fire was deliberate.
"The occupants were very distressed," said Mr Burns.
"There was only one door in and out of the property because this was a ground-floor flat.
"The fire was actually blocking their escape route. The advice they were given was to find a room of safety and make themselves known at the window of the property.
"There was a lot of smoke and this fire could have potentially been a lot worse."