Lough Foyle WWII plane wreckage 'should be salvaged'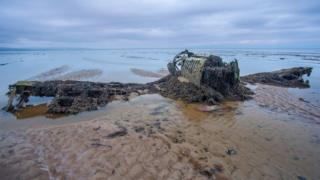 As the tide ebbs, the remains of a World War Two plane can be seen on Lough Foyle.
The Vought Corsair, an American fighter aircraft, crashed into Lough Foyle close to Ballykelly on 9 October 1944.
Local historians have said the crash happened due to engine failure.
The Canadian pilot reportedly survived the crash but was injured.
The aircraft has not been removed from the site because of difficulties with the mudflats.
Norman Thorpe, the curator of the Shackleton Aviation Museum in Ballykelly, told BBC News NI parts of the wreckage "should be salvaged".
"We understand the engine caught fire," Mr Thorpe told BBC News NI.
"The pilot was young but he managed to get on to the mudflats. The local people then contacted the Royal Air Force in either Eglinton or Ballykelly.
"It has never been recovered because of the suction into the mudflats. It is still a dangerous area there and there is quicksand.
"I have part of the engine in my garage. The military tried to lift it in the 80s and they broke the back of it. I managed to get a bit of that engine and the rest has been taken to a museum. It would be lovely to see other parts of wreckage salvaged."
Mr Thorpe also called for an official museum to be opened locally.
"The part of the engine I have is a lovely piece of history to have but we have many, many more items to showcase.
"A museum would be a great way to teach our younger generation what happened during and after the war."
The Vought F4U Corsair was one of the most successful fighters of the war.
The wreckage can be seen clearly at low tide and has been photographed a number of times by local photographers over the years.
Local photographer Patryk Sadowski took pictures of the wreckage and described it as a "photographers dream".
"As a photographer, I focus not just on the object itself but the surroundings too," Mr Sadowski told BBC News NI.
"Nobody knew exactly where it was located. It required a bit of detective work.
"The first time I visited this place I photographed it with my sneakers on and I was in mud up to my ankles. The wreck is relatively close to the road and the walk to it is about five minutes."