Vandalised County Donegal church reopens to the public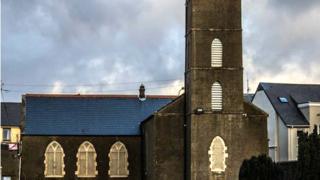 A Protestant church in the County Donegal town of Buncrana forced to close to the public because of repeated vandalism is to reopen.
Christchurch reviewed its open-door policy after a spate of incidents this year.
Vandals wrote the letters 'KKK' in a Bible, while cigarettes were stubbed out on the carpet and church literature was set on fire.
A concert of thanksgiving will mark the reopening on 12 December.
'People will love it'
"It is going to be better than before," said the Reverend Judy McGaffin.
"We are going to make our transept into a prayer space with prayer stations made by local people, everyone will love it."
Two years ago, the church opened its doors to allow people of all faiths to avail of a quiet and reflective space.
But after the vandalism it was decided to only open for church services and to review security measures.
CCTV has now been installed at the church.
'Ready for Christmas'
Ms McGaffin said the congregation of about 100 parishioners had been buoyed by the support of the local community.
In the days after the closure, people "contacted us, prayed for us", she said.
"Everybody in this community are amazing people and we really want to say thank you - we could not have done any of this without their support.
"Now we will be ready for Christmas."
The Church of Ireland congregation makes up about 1% of the population in Buncrana.