Bishop of Derry and Raphoe to retire in May 2019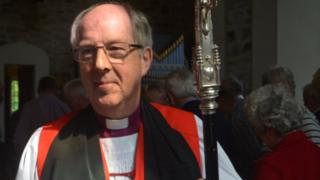 The Church of Ireland Bishop of Derry and Raphoe is to retire next year.
The Right Reverend Ken Good announced his decision to a Diocesan meeting on Wednesday.
He will retire after Londonderry hosts the general synod of the Church of Ireland in May 2019.
Bishop Good, who has been in the role since 2002, said it had been "a joy" to serve in Derry.
"I feel blessed to have been called to serve in such a great diocese as Derry and Raphoe," he added.
"I have met so many memorable people and enjoyed so many wonderful experiences that it will be a wrench to retire."
Bishop Good said the timing of his retirement would allow a successor to be appointed ahead of the next Lambeth Conference in 2020.
He added: "I am confident that my successor will inherit a committed and talented team of clergy and lay people to help develop God's kingdom in this diocese."
Bishop Good said he had been delighted that he and his wife Mary had been able "to live and work in such a vibrant community."
The 2019 Church of Ireland general synod will be the first time the governing body has met in Londonderry.