Nancy Pelosi visits Irish border and Derry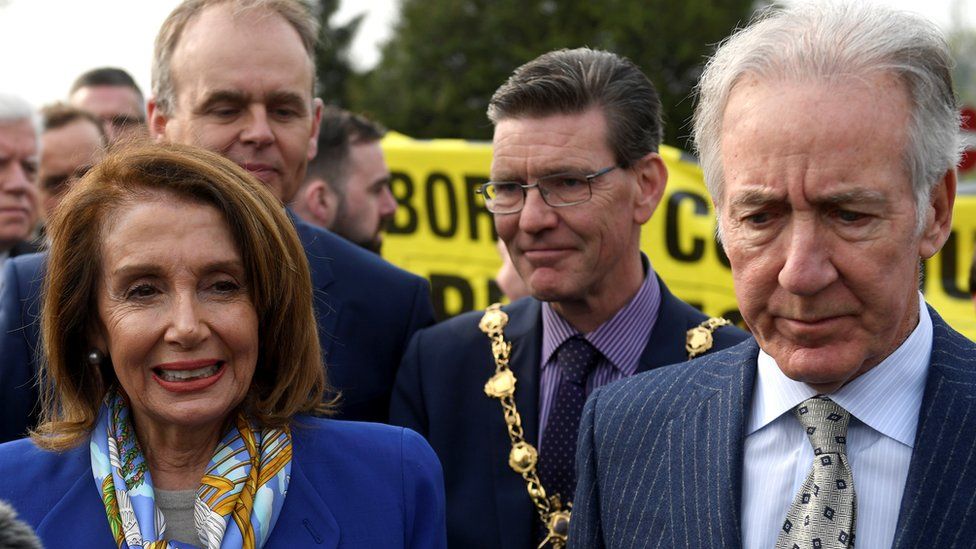 US Speaker of the House Nancy Pelosi has visited the Irish border.
One of the most senior US politicians, she made the trip to Bridgend on the Derry-Donegal border on Thursday morning before a visit to Londonderry.
She is leading a delegation of US politicians on a trip to Ireland, with stops on both sides of the border.
Speaking at the border, she said she was there "out of respect for the courage of those who took part in talks that led to the Good Friday Agreement.
"We believe that Brexit should be just an aberration in this discussion as we continue to build and strengthen the peace that was generated by the Good Friday Agreement," she added.
"I did not come at that time - the last time I came was on the train before the accords.
'Soldiers stopped our bus'
"I came by train with my daughter to Belfast and the difference from what we went through then and what we saw in terms of tanks and wire - well, you know full well what we saw.
"That would be 21 years ago and what a difference there is now."
Afterwards, the US delegation visited the Ulster University's Magee campus in Derry where Richie Neal, a Massachusetts congressman, was awarded with an honorary degree for his contribution to US-Ireland relations.
Mr Neal spoke about his experience crossing the Irish border 30 years ago: "I was on a bus here... with the Speaker of the House, Tom Foley.
"The bus was stopped and British soldiers mounted the bus with full night vision and searched the bus.
"Here we are 30 years later with Speaker Pelosi and we accept the result of the Good Friday Agreement that eliminated the border and today we walk back and forth.
"So at that time you were searched. Today, your phone pings."
A reception was then held at the city's Guildhall.
The delegation will travel to Belfast later.
She repeated the warning there was "no chance" of a post-Brexit US-UK trade deal if it was compromised.
As speaker, Ms Pelosi is the third-most senior politician in the United States after the president and the vice-president.
She was first elected to Congress in 1987 and became speaker in 2007.
Mrs Pelosi said on Wednesday that both Ireland and the US "know the joy of independence" and both "endured the traumatic experience of civil war and the satisfaction of rebuilding our nations".