Derry: Mum 'feared for life' in arson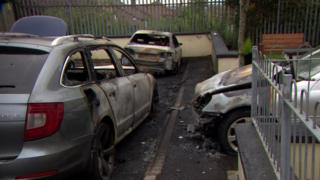 A mother "feared for the life" of her family after four cars were destroyed in an arson attack outside her home in Londonderry.
The PSNI said two cars were set on fire at around 23:55 BST on Monday in the Barrs Lane area of the city before two others nearby caught fire.
The woman and her teenage daughter were in the house when the vehicles were set alight.
No one was injured in the incident.
The woman, who did not want to be named, said the experience had been "very traumatic" for the family.
"It could be a very different story today," she said.
"If the house had caught fire and we hadn't heard a bang, we could all have been carried out in a box this morning.
"My daughter had to climb over the fence into the neighbour's back garden. She was crying and asking me to climb over too but I stayed until the fire was put out."
'No longer feel safe'
The woman said her family no longer feel safe staying at the house, having lived there for 16 years.
"We didn't want to stay last night after it happened and we don't want to stay in it now.
"You keep thinking 'are the people or person who did this satisfied or are they coming back?'"
The police said they are trying to establish a motive for the incident.
Anyone with information is asked to contact police.