Francis Lagan: Former Auxiliary Bishop of Derry dies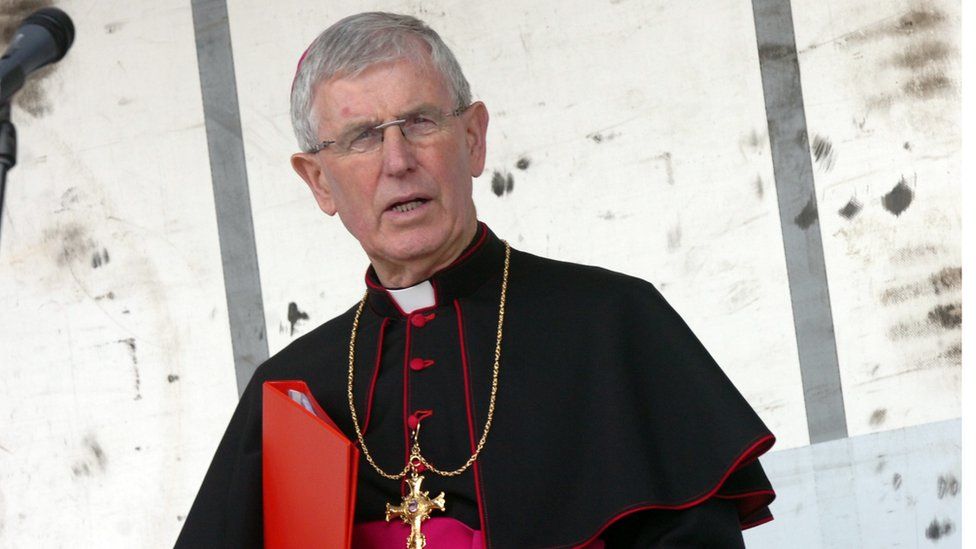 The former Catholic Auxiliary Bishop of Derry, Francis Lagan, has died.
Bishop Lagan died on Tuesday morning, the Diocese of Derry said in a statement.
He held the position of Auxiliary Bishop in the diocese for 22 years, from 1988 to 2010, and served the church for more than sixty years in a variety of roles.
Bishop Lagan stepped down from his position as Auxiliary Bishop when retiring at the age of 75.
The leader of the Catholic Church in Ireland, Archbishop Eamon Martin said Bishop Lagan was "a caring brother priest and a gentle shepherd" who undertook his role "with humility and dedication to service".
"In my last visit to him in hospital at Christmas time, despite his own illness and frailty, he went out of his way to ask about me and to encourage and wish me well," Archbishop Martin said.
"His parishioners likewise found him to be sincere and welcoming, a man of prayer and a warm and understanding confessor," he added.
Bishop of Derry, Donal McKeown, said he was "a gentle pastor".
"We offer condolences to his extended family and close friends, may he rest in peace," Bishop McKeown said.
Born in Maghera in County Derry in 1934, Bishop Lagan was ordained a priest in 1960.
He held a number of teaching positions in the diocese which spans the Derry-Donegal border, including at St Columb's College in Derry and at Carndonagh College and Carndonagh Community School in County Donegal.
He also served as a curate in Strabane and as administrator of St Mary's Parish in Derry.
Church of Ireland Bishop of Derry and Raphoe the Reverend Andrew Forster said Bishop Lagan was "a faithful servant to the Roman Catholic Diocese of Derry".
Bishop Forster added: "He was a gifted pastor and distinguished educator, who will be remembered most of all, perhaps, for his great gentility and kindness to all."
Mayor of Derry Brian Tierney said Bishop Lagan was "a hugely popular figure locally who dedicated his life to serving the parishioners of this city and district".
"It was with deep regret that I learnt of the passing of Bishop Lagan this morning," he said.