Coronavirus: Derry and Strabane infection rate continues to rise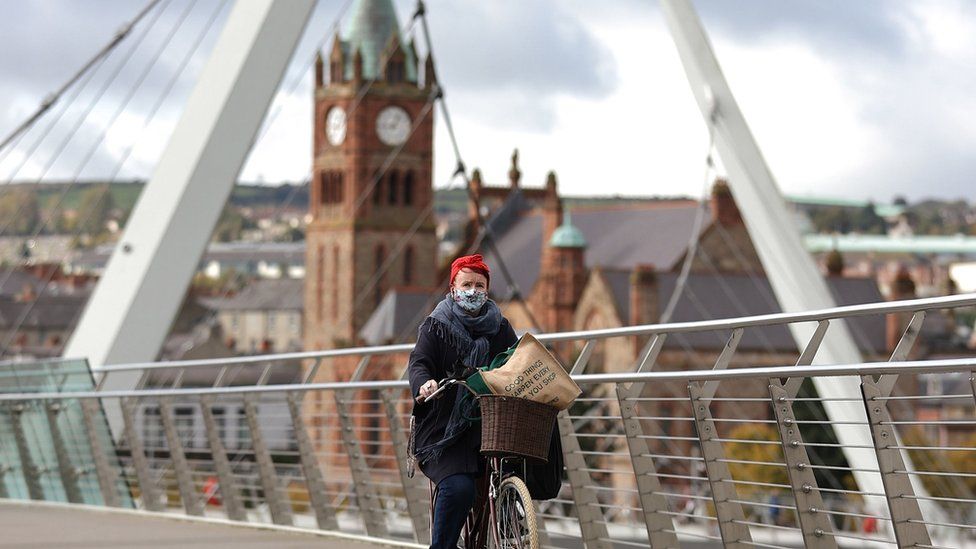 Derry and Strabane has been overtaken by Nottingham as the area in the UK with the highest infection.
That is according to the latest figures compiled by the BBC's data unit.
It reflects the Covid-19 infection rate per 100,000 population for the seven days until October 5.
This indicates the infection rate in Derry and Strabane is continuing to rise.
Elsewhere, Newry, Mourne and Down's infection rate has risen, but not by a great deal - it stands at 346 per 100,000 population. Belfast's rate is 307 per 100,000 population.
Mid and East Antrim remains the council area in Northern Ireland with the lowest infection rate at 57 per 100,000 population.
Find out how the pandemic has affected your area and how it compares with the national average.
Across Northern Ireland, there were another 923 positive cases recorded on Thursday, with one more coronavirus-related death in the past 24 hours.
Derry and Strabane recorded 235 cases - the highest in NI - while Belfast recorded 202.
Pubs, restaurants and hotels in the Derry City and Strabane council area have been operating under tighter restrictions since Monday.
'Additional financial support'
Northwest business figures said the scheme does not go far enough.
On Thursday, Brian Tierney, the region's mayor, said tighter restrictions must be also be "accompanied by additional financial support for businesses".
He said that would "support the hardest hit sectors, protecting viable jobs and giving a lifeline to businesses as they try to stay afloat during this crisis".
Meanwhile, the the chairman of the British Medical Association NI has said hospitals in the north west are already under pressure due to a surge in Covid-19 cases.
Out of the 2,245 cases reported in Derry City and Strabane district council area, 1,062 were recorded last week.
"It is a complete quantum leap from the first wave," Dr Tom Black said.
'We should be very worried'
Speaking to BBC Radio Foyle, the Londonderry GP said hospitals admissions were increasing and soon more patients will start requiring intensive care.
"GPs noticed the increase in Covid cases about three weeks ago, a proportion of those cases will isolate at around one to two weeks and become much worse due to the immune reaction.
"Now we are starting to see the increase of people needing to go into hospital and then it is another week or two before those patients start to deteriorate and need intensive care."
Dr Black said "a big fear" among the medical profession is the availability of intensive care beds if cases continue to rise at the current rate.
"We are in a lot of bother and we are going to have to work very hard to get out of this," he said.
"The hope would be that because we are smarter, we have better drugs and because our vulnerable have been shielding throughout this, we won't need as much intensive care capacity.
"But we still have to find that out in real time."
Dr Black advised people who have received a letter about their flu vaccination this year to get vaccinated.
"The last thing we need is a flu epidemic at the same time as a Covid pandemic because you can imagine the demands that will place on the health service," he said.
He advised everyone to continue practicing safe hygiene measures to help limit the spread of infections.
"Keep your distance, wear your mask and wash your hands."