Londonderry: Man charged with preparing terrorist acts denied bail
By Maria McCann
BBC News NI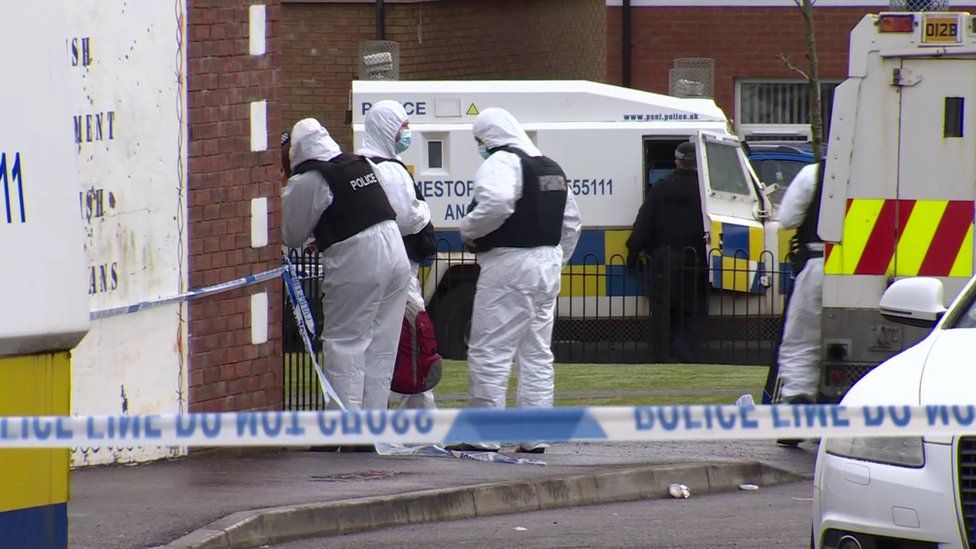 A 52-year-old man from Londonderry has been charged with possessing explosives, bomb-making components and preparing terrorist acts.
Kieran McCool from Ballymagowan Gardens in the city was arrested on Thursday by police investigating the New IRA's bomb-making activities.
A detective told the court he could connect Mr McCool to a number of items found during searches since 2017.
Mr McCool's defence barrister said the evidence was "flimsy and untenable".
Belfast Magistrates Court heard that an explosive substance used in semtex, timer switches and black gloves have been seized.
The police officer said he believed there was a correlation between the materials found over the last four years and a number of improvised explosive devices discovered in Strabane, Derry and Belfast between 2017 and 2020.
Defence barrister Joe Brolly said the evidence was "remarkably flimsy and untenable" and it was "a highly speculative case that's going nowhere".
He said his client had previously been arrested following a number of searches but was released unconditionally.
Police opposed bail believing the accused was at risk of reoffending and a flight risk with access to a large terrorist organisation.
However, the defence said Mr McCool has no passport, a serious spinal injury, needs his wounds dressed in hospital every day and last travelled 12 years ago.
The judge said she was concerned about the "gravity of the alleged offences", describing them as serious.
Mr McCool was remanded in custody with the case adjourned until 15 April.