Covid-19: First Communions in Derry diocese postponed over party fears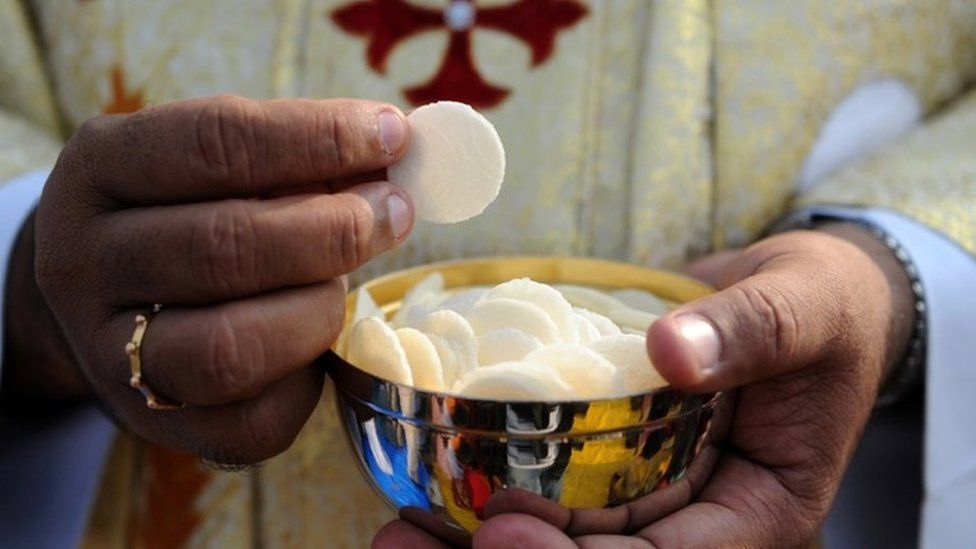 The Catholic Diocese of Derry has postponed First Communions over fears they could encourage people to hold parties.
First Communion is usually celebrated during April and May when children are between the ages of seven and eight.
They will not now go ahead in the diocese until September.
Bishop of Derry Donal McKeown said he has taken the decision because "parties and other socialising can and do occur".
He said it was important the Church "go the extra step to assist in protecting public health, by avoiding those situations which might with some regularity lead people to organise parties".
The Church of Ireland, Methodist and Presbyterian Churches in Northern Ireland will resume in-person services from Good Friday, 2 April.
The Diocese of Derry also includes parishes in County Donegal in the Republic of Ireland. No date has yet been set for the return of public worship there.
In a letter to priests, Bishop McKeown said the diocese's parishes in Northern Ireland are "safe places for the celebration of First Communion and Confirmation".
"However, I am concerned about the parties and other socialising which, although completely disconnected from the celebration of the sacraments and the environs of the church, can and often do occur," he added.
Under current coronavirus restrictions gatherings of people outdoors in public parks and spaces are limited to 10 people from two households, which includes children under 12 - although exemptions apply such as support bubbles.
From 1 April, six people from two households will be allowed to meet in a private garden.
Bishop McKeown said postponing communion services had not been an easy decision to take.
"I do not take this decision lightly, but I am conscious that we must do everything we can to ensure that life is protected in the midst of this pandemic, noting that there has been some upturn in case numbers locally in recent days," he said.
Derry parish priest Fr Michael Canny told BBC Radio Foyle he understood the Bishop's decision.
"The fact is that what happens in Church may be perfectly safe, but we can not remove ourselves from the reality of the world in which we live in and that the other dynamics outside the church is perhaps what the Bishop is referring to."
He said the postponement "gives us a chance to see what happens over the summer" in regard to the pandemic.
Meanwhile Bishop McKeown has also announced confirmations will take place in June, while baptisms will be limited to a maximum of 25 people.
Other cross-border dioceses are also in preparation for a return to worship.
In Diocese of Kilmore, a conversation about when the sacraments of Holy Communion and Confirmation can take place is ongoing, a spokesman told BBC News NI
A decision about when they might take place has not yet been taken, he added.
The Diocese of Dromore said in a statement that NI parishes are "already making arrangements, while pushing the dates back as long as possible to allow more time for preparation and to ensure that the number of (Covid-19) cases continues to decline".
A spokesman for the Diocese of Clogher said arrangements could only be put "in place following risk assessments and with small numbers and ceremonies on a reduced scale".
The BBC has also contacted the Dioceses of Armagh and Down and Connor.