Apology call over killing of Eamon McDevitt in Strabane in 1971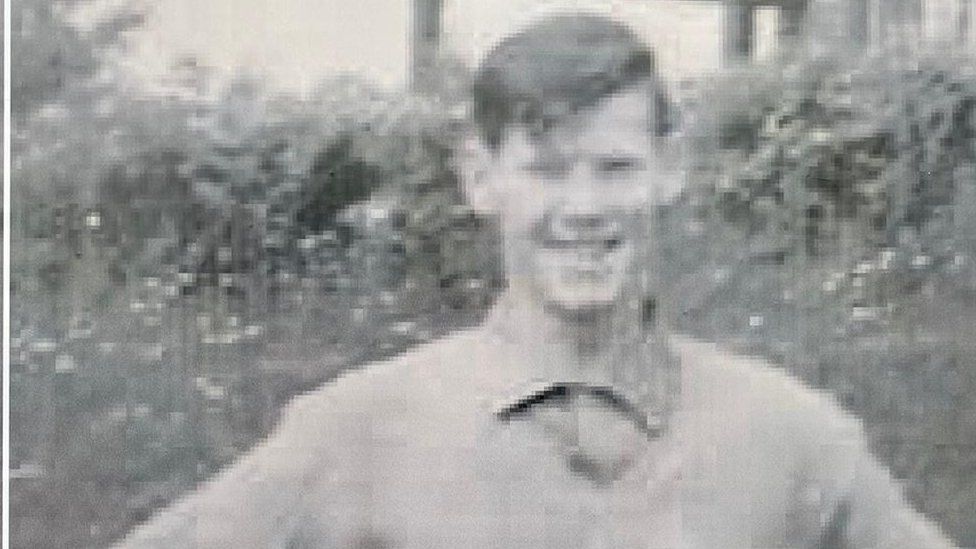 The brother of a County Tyrone man shot dead by the Royal Marines 50 years ago has called for an apology from the government.
His brother, Sammy, said his family "have been made to suffer for decades waiting on justice".
He said the McDevitt family would not accept an "empty apology".
"I have spent 50 years fighting for justice and an apology for my brother Eamon," he told a vigil in Strabane on Wednesday to mark 50 years since his brother was killed.
"We want an apology for what happened to Eamon. That a British soldier shot and killed an unarmed man here on this street.
"That they devastated my family, the people of Strabane and the deaf community across Ireland".
At the time, the Army claimed Eamon McDevitt, who lost his hearing after contracting meningitis in childhood, was waving a gun when he was shot.
But people who were at the scene said he was waving his hands about - his way of attracting attention.
At the time, Paul O'Connor from the Pat Finucane Centre said the document was uncovered in the Ministry of Defence's (MoD) national archives at Kew in England.
He said the paper showed that the Army, crown counsel and the MoD, were all of the opinion that the overwhelming evidence from civilian witnesses was that Eamon had nothing in his hands when he was shot by a soldier from the Royal Marines.
"It never was sent to my mother or father, they died not knowing. They knew Eamon was innocent but they never knew that letter was there. We are hoping against hope that there will be an apology," Sammy, a former British soldier who left the Army in 1969, said.
"The British government must acknowledge not only the actions of their soldiers on that day 50 years ago, but they must also apologise failing to investigate Eamon's death, for failing to hold anyone accountable and for making our family, like so many other families, suffer for decades waiting on justice.
"An apology must acknowledge this hurt to be meaningful".
The proposals would apply to former members of the security forces and to former paramilitaries, as well as marking an end to future inquests and civil actions.