Sinn Féin needed shake up in Foyle, says McDonald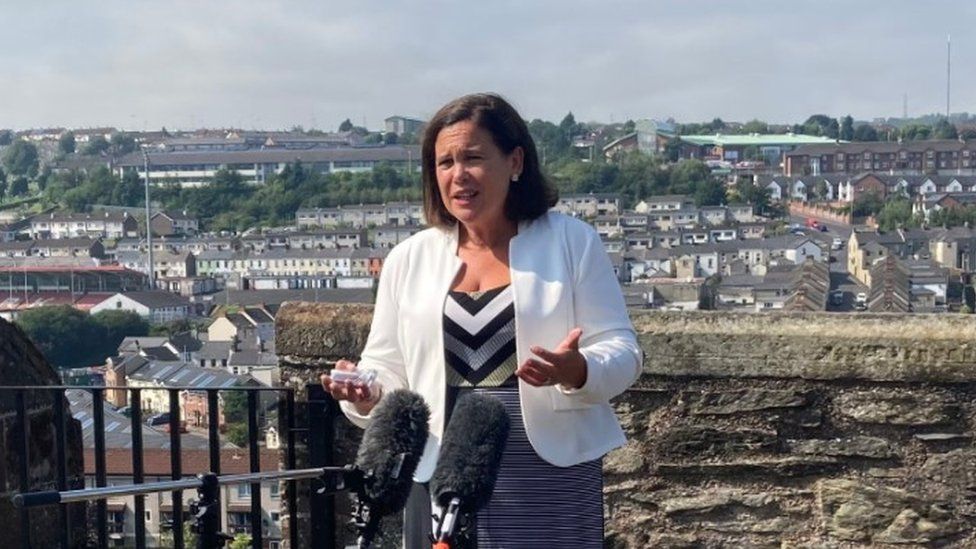 Sinn Féin president Mary Lou McDonald has insisted the party's structures in Foyle needed a "shake up" ahead of the next Stormont assembly election.
She was speaking in the constituency to mark nominations opening to replace the party's two Foyle MLAs.
Mrs McDonald said she would "await with interest" names that would come forward for selection, with the convention taking place on 8 September.
She said reviews and change were challenging but that it was the "nature of life and politics".
'Emerge from this stronger'
The party leader also rejected suggestions she had been snubbed by Ms Anderson and Ms Mullan on her visit to Londonderry on Thursday, who did not join her for a press conference.
"We're friends, we're activists together and we work in common cause," she added.
"I am absolutely certain and confident that we'll emerge from this stronger and in a united fashion."
Mrs McDonald also responded to criticism from Democratic Unionist Party (DUP) leader Sir Jeffrey Donaldson over a row at Belfast City Council regarding the Queen's 70th Jubilee events.
Sinn Féin has asked for the events to be equality screened, with reports to be made public by the council.
Equality screening is a process whereby policy proposals are assessed to determine if they will have a negative effect on a particular group of people.
On Wednesday Sir Jeffrey tweeted that: "Unionist patience growing thin with such narrow approach", adding: "Certain decisions (are) imminent."
Sinn Fein talk equality & respect but do opposite. Unionist patience growing thin with such narrow approach. I want a Northern Ireland where we live as neighbours respecting each other's culture. Respect is two way street. Certain decisions imminent. Things need to change & soon. https://t.co/3vgCh2iv32

— Jeffrey Donaldson MP (@J_Donaldson_MP) August 25, 2021
Mrs McDonald responded that Sinn Féin was "not getting in the way" of unionist celebrations.
"I really think Jeffrey should take the temperature of that down and not be sowing division or mistrust where there is no division or call for mistrust," she said.
"It's a process issue and I'd have thought Jeffrey would know that."