David Ford sets out plans to improve witness services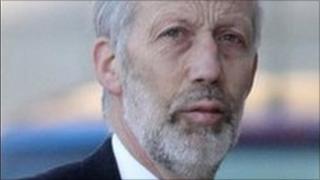 Money could be taken from criminals to fund support for victims of crime.
The proposal is part of plans set out by NI Justice Minister David Ford to improve how the criminal justice system helps victims and witnesses.
The Chief Executive of Victim Support Northern Ireland, Susan Reid, said money taken from criminals could help victims in a number of ways.
She said: "People need clear information, they need support and help."
"A lot of people will work through the psychological impact of crime by themselves.
"But a substantial amount of people need to talk through the experience to actually recover," she said.
The plans to improve services for victims and witnesses were set out by the justice minister.
Mr Ford said that he was "committed to putting victims and witnesses of crime at the heart of the criminal justice system".
The plans also include a code of practice for victims and the development of an intermediary service for witnesses.
He said they represented "an important step forward in providing victims and witnesses with the support they need".
Mr Ford said: "Justice for all means, first and foremost, justice for victims and respecting the critically important role that both victims and witnesses play in our justice system.
He added: "It also includes commitments to join up policing and prosecution procedures, develop a new Victims Code of Practice, introduce an offender levy system and improve measures for vulnerable witnesses."
The plans were developed by a task force including the criminal justice agencies, Victim Support NI and NSPCC.