Adams meeting parades organisers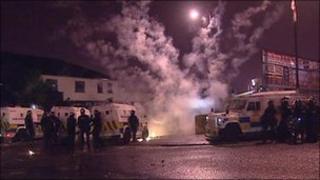 A group representing the organisers of loyalist parades is holding its first meeting with the Sinn Fein President.
The North and West Belfast Parades Forum is meeting Gerry Adams and his party colleague Gerry Kelly.
It is viewed as an attempt to prevent a repeat of the recent riots in Ardoyne, ahead of a planned Apprentice Boys parade in the same area in a fortnight's time.
It follows an invitation by Gerry Adams for talks with the marching orders.
The Sinn Fein president said his party believed dialogue is the best means of resoling confrontations that occur around a small number of parades.
"Sinn Fein is happy to meet with anyone, including the North and West Parades Forum, to discuss matters relating to marches.
"We are also happy to facilitate discussions between those who want to march through areas and the people who live there," he added.
Poilce officers in Ardoyne came under sustained attack from republican youths throwing bricks and wielding metal bars and planks on the evening of 12 July.
The trouble continued for another two evenings.